Brooklyn principal bans Christmas, Santa & Thanksgiving from school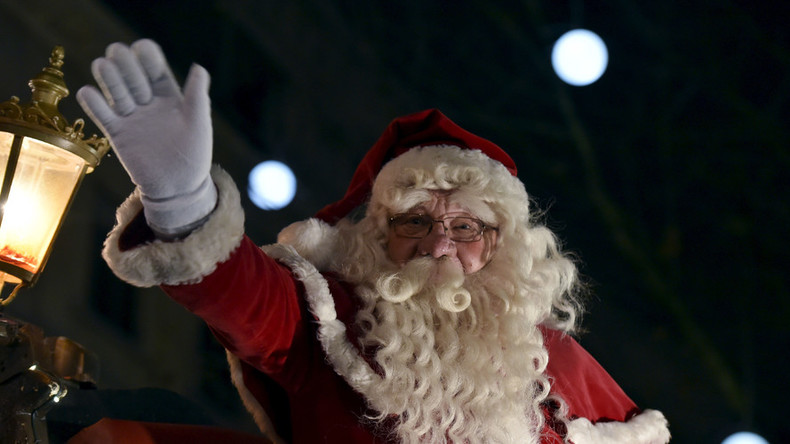 The "War on Christmas" has been stepped up by a principal in Brooklyn who has reportedly banned references to Christmas, Santa and Thanksgiving, as well as recitals of the Pledge of Allegiance.
According to the Parent-Teacher Association (PTA) of PS 169 in Sunset Park, Brooklyn, the recently-appointed principal, Eujin Jaela Kim, has moved to rid the school of any references to such holidays, or anything that could represent a "religious system," even though the city Department of Education does allow certain religious symbols, as well as Santa Claus.
PTA president Mimi Ferrer told the New York Post that school administrators told her that the school "definitely can't say Christmas, nothing with Christmas on it, nothing with Santa."
"No angels. We can't even have a star because it can represent a religious system, like the Star of David," Ferrer added.
The strength, the greatness of America has been built from our amazing diversity. Now PS169 in Brooklyn wants end all that with PC blandness

— Bob Keller (@Wizardfkap) December 14, 2015
A memo sent to staff by assistant principal Jose Chaparro in November suggested hosting a "harvest festival" instead of Thanksgiving and a "winter celebration" instead of a Christmas party.
"Be sensitive of the diversity of our families," Chaparro told staff. "Not all children celebrate the same holidays."
Eujin Jaela Kim: another example of our educational system creating mentally ill teachers and students. #Brooklyn#ps169

— SmilingAssassin27 (@RJCHVZ) December 14, 2015
The clampdown comes following a raft of new measures that Kim has introduced in the school that has left staff, pupils, and parents perplexed.
Not long after taking up her new role in 2014, Kim ended the tradition of a school-wide recital of the Pledge of Allegiance every Monday morning. She also binned newly purchased school books as she preferred others, spent several thousand dollars on flat screen televisions in the auditorium and painted over historic murals.
Eujiin Kim of PS169 Brooklyn bans Santa, Christmas, Thanksgiving. Replaces them with "winter celebrations" and "harvest festival". Humbug!

— Gretchen (@colm346) December 13, 2015
Such a ban comes just a week after the approval of an injunction against the hosting of a live Nativity scene as part of a "Christmas Spectacular" in Concord High School in Indiana.
A complaint lodged by the father of a child at the school was approved by US District Court Judge Jon DeGuilio. "The show takes a distinctly religious tone," the judge wrote in his ruling. "The living nativity scene impermissibly conveys an endorsement of religion and thus runs afoul of the Establishment Clause [of the First Amendment]," he added.
The headmaster of a school near Milan drew the ire of Italian Prime Minister Matteo Renzi in November after he cancelled Christmas concerts and carols due to the potential "problems caused by the multi-ethnic environment." In its place, Headmaster Marco Parma offered to stage a "winter concert" without any religious songs.
A school in New Hampshire also refused to allow the word "Christmas" to appear on fliers that were being handed out on school grounds in November. John Fletcher was told to "revise" his leaflet and to change "Christmas Tree Lighting" to "Holiday Tree Lighting."
"In this case, this political correctness has just gone too far. It's just getting out of hand," Fletcher told Fox25.