North Texas student with an axe shot and killed by police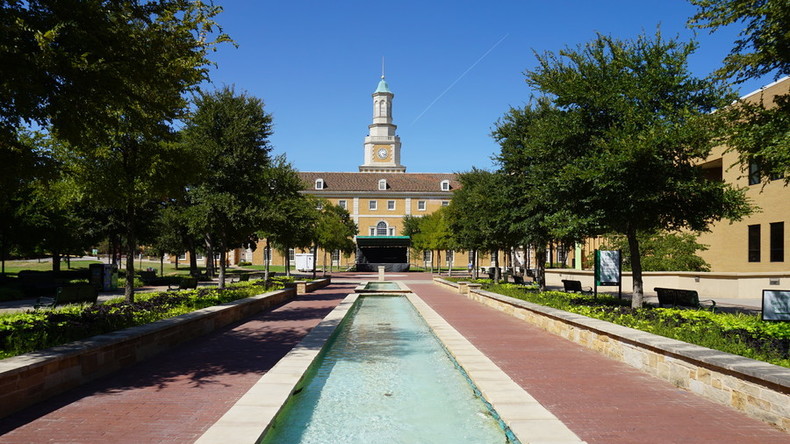 A student at the University of North Texas in Denton was shot and killed after he "advanced" on a campus police officer while carrying an axe. His friends say their mild-mannered teammate might have been drinking, having just turned 21.
The officer was responding to a call that someone was breaking car windows on Fry and Oak streets, about two blocks away from the campus, just after 1am on Sunday, UNT spokeswoman Margarita Vanegas told the Dallas Morning News. When a man he found at the scene advanced on him with an axe, the officer opened fire.
At least three shots were fired, according to Bink Ruckthongsook, another UNT student who told KXAS-TV he heard the gunfire.
The Tarrant County Medical Examiner's office identified the victim as Ryan McMillan, who had just turned 21 the day before. He was a second-year transfer student from Fort Worth, according to UNT spokeswoman Kelley Reese.
A video provided to North Texas Daily, the university newspaper, shows a man matching McMillan's description walking through a parking garage, carrying an axe.
McMillan's friends were incredulous and angry at the news of his death. They say the mild-mannered and shy high school tennis player, nicknamed "Charlie Brown" by his teammates, was not aggressive by nature and believe the officer could have subdued him without deadly force.
"I can't really put into words how I feel about the fact that one of the nicest people I ever met was shot because an officer felt threatened," Matthew McDermott, McMillan's childhood friend, told the Dallas Morning News. "I want to drive to Denton and scream at the top of my lungs at the police department, but that's stupid and irrational. But it just really angers me."
Ashley Jones, an acquaintance who saw McMillan just before police arrived, said he did not seem quite right that evening. When she rolled down her window to say hello, McMillan smashed the hood of her car with the axe, Jones told the North Texas Daily.
According to website Killed by Police, Ryan McMillan was the 1,133rd American killed by law enforcement officers in 2015.
Sunday's incident was the first time in 23 years that a UNT police officer fired his weapon in the line of duty, said Reese. Texas Rangers are investigating the shooting, and the officer has been placed on administrative leave pending the outcome. His identity has not been revealed.
Located in Denton, just north of Dallas, the UNT has around 36,000 students in ten colleges. It is best known for its music program, with musicians such as Roy Orbison, Meat Loaf and Norah Jones among the alumni. Other notable UNT alumni are journalist Bill Moyers and celebrity psychologist Dr. Phil.
You can share this story on social media: