US Navy's newest ship breaks down 20 days after commissioning, towed to emergency repair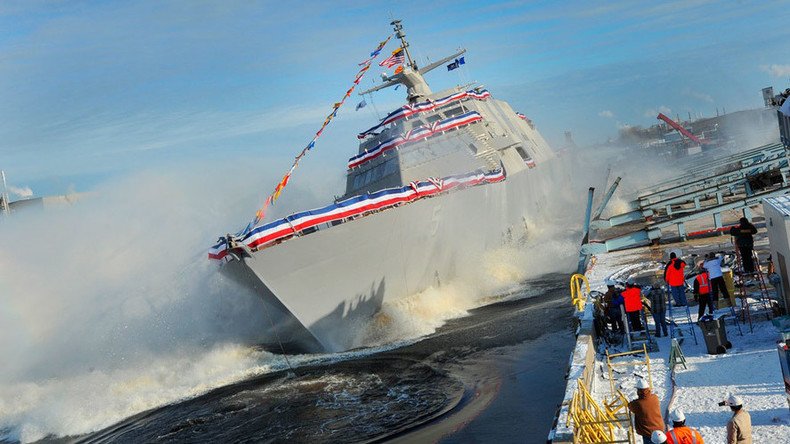 The US Navy's brand new littoral combat ship, the Milwaukee, broke down on Friday and had to be towed for emergency repair just three weeks after commissioning. The warship's troubles came after several days of propulsion system problems.
The USS Milwaukee was traveling from Halifax, Canada to Mayport, Florida, on its way to its homeport in San Diego when it suffered an engineering failure, the Navy Times reported.
The salvage ship Grapple towed it more than 40 nautical miles to the Joint Expeditionary Base in Little Creek, Virginia, where the cause of the failure will be traced and repairs carried out.
Initial indications point to metal filings in the lube oil filter as the cause of the shutdown, the report said. The ship experienced propulsion problems after leaving Halifax. Engineers cleaned out the metal debris and locked the port shaft as a precaution, but it appears the fix wasn't enough to keep the Milwaukee running.
"Reporting of a complete loss of propulsion on USS Milwaukee (LCS 5) is deeply alarming, particularly given this ship was commissioned just 20 days ago," Senator John McCain, the chairman of the Senate Armed Services Committee, said in a statement to the Times.
The USS Milwaukee is the third ship of the Freedom class, Lockheed Martin's contribution for the Navy's Littoral Combat Ship program. The Navy couldn't choose between this design and the rival contender from General Dynamics, the Independence-class LCS and contracted a dozen of each class. Three of each has been commissioned so far.
READ MORE: F-35 deathtrap: Pentagon jet's ejection seat could snap pilot's neck
The LCS program was designed to produce a multipurpose warship for patrolling littoral zones, waters close to shore. It suffered from an overblown budget and concerns over the warship's ability to survive actual combat.
You can share this story on social media: