Catholic priest accused of stealing $1m to pay S&M 'master' for gay sex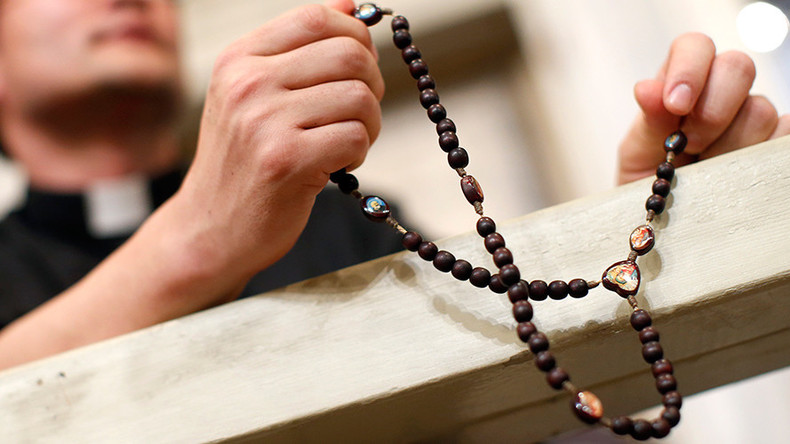 A Catholic priest in New York City is accused of stealing over one million dollars from two churches to fund a homosexual S&M relationship while the church hierarchy tried to cover it up.
Fr. Peter Miqueli, who continues to work as a pastor in St. Frances de Chantal Church in the Bronx, has had a case brought against him by his current and former parishioners at two churches in New York City. They claim he paid $1,000 per sex session with his escort boyfriend in a relation that lasted 10 years.
The 39-page document was filed on Thursday and details how Miqueli and his alleged boyfriend Keith Crist shared a house for several years, which was paid for in cash by the pastor six years ago using money donated by parishioners totaling $264,000.
The document details how the couple acted out Miqueli's sexual fantasies by role playing, with Crist being the "master" and Miqueli the "slave." It goes on to explain that "at the behest of Father Miqueli, Keith Crist would force Father Miqueli to drink Keith Crist's urine."
Tatyana Gudin, a former girlfriend of Crist, told New York Daily News that Crist once injured his knees in a bathtub after having sex with the priest at their shared house. Gudin also claims to have copies of numerous emails and texts sent between Miqueli and Crist.
Included in this filing is a list of allegations detailing how the 53-year-old pastor repeatedly stole funds from a number of church sources, banking a lot of it in a personal account. In addition to stealing money from parishioner donations, it also includes the siphoning of funds originally raised to restore a church pipe organ and also from a parish-run thrift store.
The lawsuit goes on to say that repairmen at the priest's house often saw "several unstacked piles of cash, each approximately one foot high" scattered around the priest's residence.
Accusations around the mishandling of cash by the pastor are not new, however, with parishioners raising concerns with the archdiocese over one year ago. Twelve months later, the archdiocese issued directives to the pastor reinforcing the importance of following protocol when it comes to dealing with church money.
The Bronx Times reported that an audit into the parish accounts had been conducted by church authorities but it "did not reveal any irregularities.""There was nothing found," Bishop John Jenik told the newspaper at the time.
As well as paying for sex, the lawsuit claims money was used to purchase illegal drugs, pay for dozens of vacations to places including Italy and Florida, and also pay the rent on Crist's own apartment.
Read More: Church should be humble, not clinging to power & money – Pope Francis

The lawsuit has been filed by parishioners of his current church and his former church of St. Francis Cabrini on Roosevelt Island, with both parishes represented by lawyer Michael Dowd.
Speaking to the New York Daily News, Dowd explained the parishioners' frustrations with the lack of action by the archdiocese, which is also named in the court filing.
"These charges of theft and misconduct have been made for at least 10 years… It is unbelievable that the diocese can't come to a conclusion about the misconduct," Dowd said.
Parishioners told media that they feel by simply moving Miqueli between parishes, the church is complicit in a cover-up, reminiscent of previous scandals in the church.
"We can't understand it," parishioner Jack Lynch told the newspaper. "It seems they are going out of their way to protect him, and for years. We suspect a scandal behind the scandal."
Of the allegations levelled at the Archdiocese, Joseph Zwilling, director of the Office of Communications for the Archdiocese, said in a statement: "To date we have found nothing to substantiate the allegations that have been raised."
You can share this story on social media: