Oil & gas 'zombies' on the rise as US oil production set to decline through 2016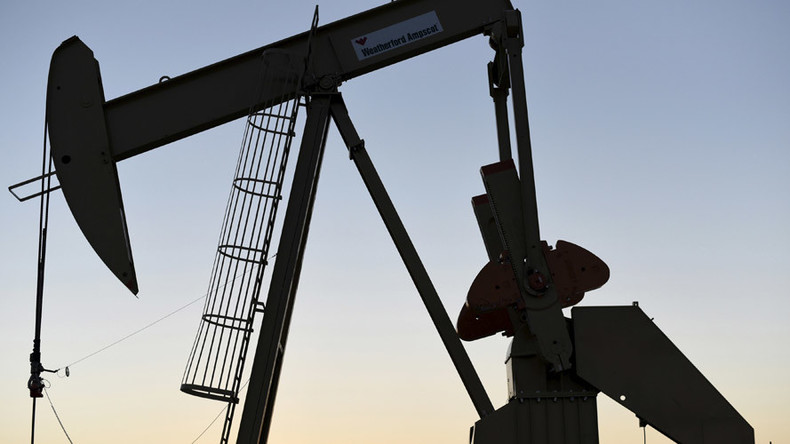 US crude oil production declined by about 60,000 barrels per day in November and will continue to drop until the end of 2016, a new forecast says. Meanwhile, the slump is forcing US companies to shrink production, creating gas and oil "zombies."
According to the US Energy Information Administration (EIA) projections, local crude oil production averages 9.3 million b/d (barrels per day) in 2015, but will fall to 8.8 million b/d next year.
In its recent short-term outlook, the EIA said US crude oil production lost about 60,000 b/d in November compared with October, continuing the decline tendency that began in May 2015. Since then, total US crude oil production fell from 9.6 million b/d in April to an estimated 9.2 million b/d in November.
The EIA also forecasts oil prices below $60 a barrel throughout the reviewed period (through 2016), warning that the situation is expected to limit onshore drilling activity.
On Thursday, crude oil prices settled at $36.76 per barrel, falling to fresh low for the first time since 2009.
According to Reuters, slumping oil prices have already created about two-dozen of the so-called gas and oil "zombies," as US companies are forced to curb costly drilling. To stay afloat, zombie companies have to halt drilling and use revenue from existing production to pay interest and other expenses.
When asked about the zombie situation, investors and experts told the news agency that SandRidge Energy Inc., Comstock Resources, and Goodrich Petroleum Co. are topping the list.
"They can just be zombies. They can pay their interest, there's no growth and they are cannibalizing their assets," Thomas Califano, vice chair of the restructuring practice at the law firm DLA Piper, told Reuters.
The Fitch rating agency has marked defaults for oil and gas companies at the highest level since 1999. Since the start of the third quarter, at least 12 oil and gas companies have defaulted on their debt.
In the event that prices stabilize below $50 per barrel, the number of such zombie companies might grow.
You can share this story on social media: