'I am a warrior for the babies': Planned Parenthood mass shooter proclaims guilt in court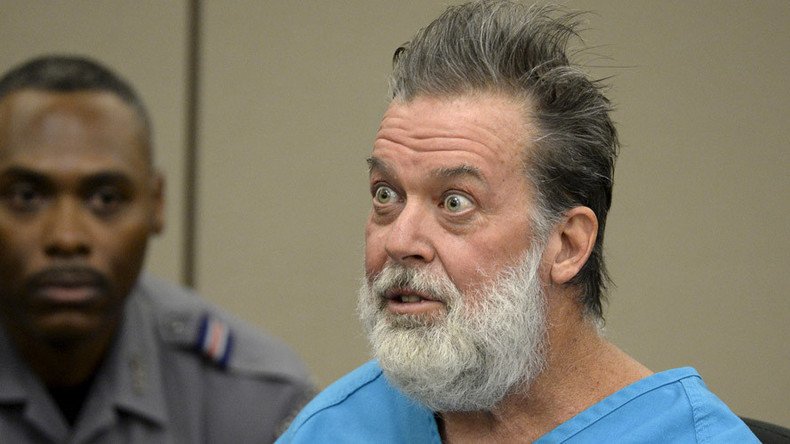 The man accused of killing three people and wounding nine during an hours-long stand-off with police at a Colorado Springs Planned Parenthood last month, Robert Lewis Dear, declared his guilt and yelled, "I am a warrior for the babies!" in court.
The outburst was one of dozens made by Robert Dear, 57, during his first court appearance at an El Paso County Court courtroom in Colorado Springs on Wednesday. He accused his attorneys of trying to drug him and exclaimed, "kill the babies! That's what Planned Parenthood does."
Dear was arrested after a standoff with police that lasted more than five hours, during which three people died, including a police office and Iraq war veteran, and 12 people were injured, nine of those by gunfire. Five of the injured were law enforcement officers. Dear faces 179 counts of various criminal charges for the shooting, among them first-degree murder, for which he could face the death penalty.
Dear's hands and feet were restrained in court. Less than four minutes into the hearing, Dear interrupted his attorney, public defender Daniel King.
"I am guilty, there's no trial. I am a warrior for the babies!" Dear shouted at King, according to the Denver Post.
"Do you know who this lawyer is?" he added, referring to King. "He's the lawyer for the Batman shooter that drugged him all up and that's what they want to do to me."
King was part of the team that represented Aurora theater shooter James Holmes. Holmes was placed on anti-psychotic medication during his trial this year over the 2012 shooting, which killed 12 people and wounded 70. He was sentenced to life in prison.
The Associated Press reported that Colorado Springs police have refused to discuss a potential motive in the November 27 attack, but even before his court outbursts there was mounting evidence that he was deeply concerned about abortion. Dear is alleged to have told authorities "no more baby parts" after his arrest.
Planned Parenthood of the Rocky Mountains President Vicki Cowart told the New York Daily News the gunman's attack had been motivated by anti-abortion views.
The Daily News also reported that one of Dear's ex-wives, Barbara Mescher Micheau, claimed he once vandalized a Planned Parenthood clinic in South Carolina two decades ago by putting glue in the locks. Notably, this is a common practice among activists trying to shut down abortion clinics.
While Chief District Court Judge Gilbert Martinez issued a gag order for law enforcement and attorneys, Dear accused defense attorneys of hiding the "truth."
"The babies that were supposed to be aborted that day, could you add them to that list?" Dear said, reported the Denver Post. Later he yelled, "You'll never know what I saw in that clinic. Atrocities. The babies. That's what they want to seal."
The Post reported that Dear's attorney King asked the court to order prosecutors to provide them with evidence so the defense team can "learn the depth of Mr. Dear's mental illness."
Dear interrupted, "You're not my lawyer."
King told the judge the sharing of evidence was vital. "It's rather ironic that prosecutors have not disclosed one piece of evidence," he started.
Dear interrupted, "You're trying to silence me."
King told the judge "I think the problem is obvious, your honor."
Judge Martinez set the next hearing for Dear for December 23.
After the court appearance, Planned Parenthood's Cowart released another statement, saying "our focus now is on recovery and making sure this never happens again."
"We continue to provide high-quality, compassionate health care in a safe, supportive environment," she wrote. "Every day since this terrible tragedy, Planned Parenthood's doors have been open across Colorado, across our Rocky Mountain region, and across this country. Our doors – and our hearts – stay open."
You can share this story on social media: