Test facility for Elon Musk's 750 mph transportation system to be built in Nevada this month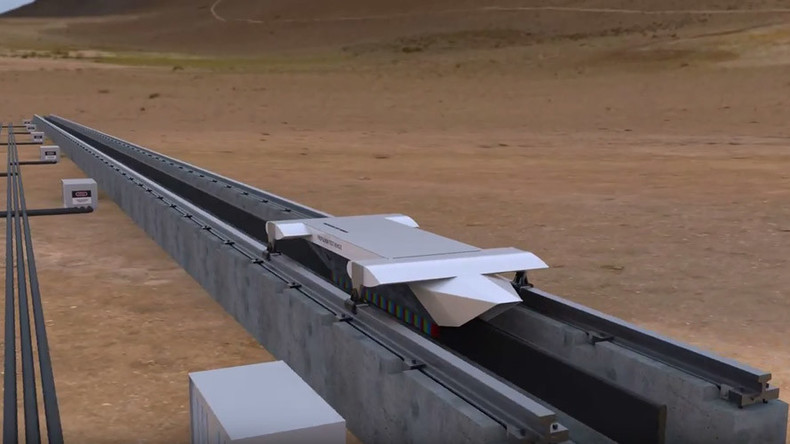 Areas near Las Vegas will soon become a range for testing the futuristic travel system Hyperloop, expected to transport passengers at nearly the speed of sound. Installation of the test track is scheduled to begin this month.
Hyperloop Technologies, a California company, will start construction of the test facility in southern Nevada, the Associated Press reported. A track roughly half a mile (one kilometer) long will be built at the Mountain View Industrial Park in North Las Vegas, with testing planned to start early next year.
To experiment with the radical transportation concept, a 50-acre facility will be built that will test a linear electric motor at speeds of up to 335 miles per hour, about half the speed aimed for in a full-scale system, Hyperloop and the Nevada governor's office said.
If developers' plans are fulfilled, their intended 400-mile route between Los Angeles and San Francisco will take about half an hour. The company said its goal is to have a commercially viable, fully operational transport system ready by as early as 2020, first to transport cargo and passengers later on.
The decision to launch the first tests in the upcoming months "represents another major milestone in our journey to bring Hyperloop to commercial reality," company CEO Rob Lloyd said in a statement.
The idea is to transport passengers in pressurized capsules through near-vacuum tubes, powered by magnetic attraction and solar power. Unlike the final concept, the first trials, called the Propulsion Open Air Test, will have a track open to the air, rather than in a tube.
The ambitious concept of the public traveling at nearly the speed of sound (which is 767 mph) was introduced by the famous SpaceX and Tesla owner and product architect Elon Musk in 2013.
READ MORE: Inventor Elon Musk reveals new super-fast 'Hyperloop' transport
"The physics of it works," aeronautics and astronautics professor at the Massachusetts Institute of Technology John Hansman told AP, adding that "the real question" is whether the project "will be cost-competitive with other means of transportation."
Hyperloop Technologies takes its name from Musk's proposed invention, but is not associated with the billionaire. To construct the testing facilities, the company has raised $37 million from investors and expects to obtain $80 million more in bond financing, it said, without disclosing the full cost of the test. No tax incentives were involved, local authorities said.
The California-based firm is just one of the companies vying to bring Musk's concept of futuristic travel to life. A separate company, Hyperloop Transportation Technologies (HTT) is also working on a test track north of Los Angeles, with construction scheduled for next year.