Shoot! FDA okays revolutionary wound-plugging gun
The US Food and Drug Administration (FDA) has approved a ground-breaking device that can plug gunshot wounds in 15 seconds using a special sponge-filled mechanism.
Read more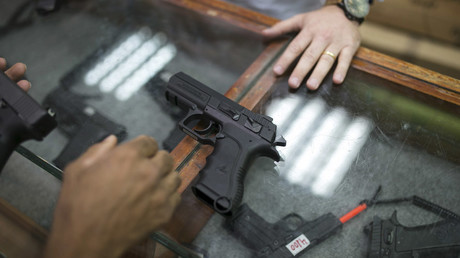 The device is called 'XSTAT Rapid Hemostasis System', and is an expandable, multi-sponge dressing that can be used to stop life-threatening bleeding from wounds, or in hard-to-reach areas like the groin or armpit, according to an official FDA press release.
The XSTAT device functions by pumping tablet-sized sponges into the wound, halting the bleeding. The tablets are standard medical sponges that expand on contact with blood and block the flow. The dressing can be used for four hours.
The wound-plugging gun is available in one or three syringe-like applicators that have 92 compressed sponges inside. Each applicator can absorb about 0.5 liters of blood. There are up to 5.5 liters in the average human body.
The device was cleared for the battlefield last year, but is now allowed to be used on civilians.
"When a product is developed for use in the battlefield, it is generally intended to work in a worst-case scenario where advanced care might not be immediately available," William Maisel, M.D., M.P.H., acting director of the Office of Device Evaluation in the FDA's Center for Devices and Radiological Health, said, as quoted in the press release.
"It is exciting to see this technology transition to help civilian first responders control some severe, life-threatening bleeding while on the trauma scene," he added.
The FDA's guidelines, however, limit the use of the device to certain areas of the body, because "definitive care at an emergency care facility cannot be achieved within minutes," with use not allowed on parts of the chest, abdomen, pelvis, or tissue above the collarbone.
The device could revolutionize immediate post-trauma care: currently, 30 to 40 percent of civilian deaths from traumatic injuries happen due to hemorrhaging. Of those deaths, up to 56 percent occur because the patient doesn't reach the hospital in time.