Officer acquitted over kick that knocked out unarmed black man, broke his jaw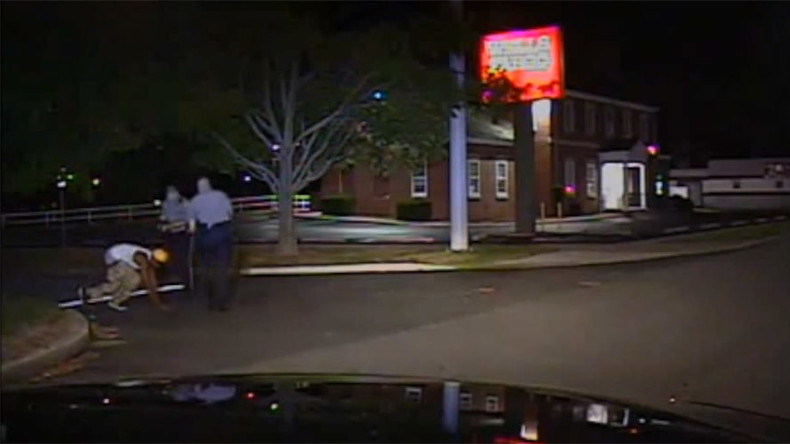 A Delaware police officer has been found not guilty after knocking out a suspect and breaking his jaw even though he 'got down on the ground'. The acquittal shocked some who felt dash cam video and the officer's own words invited a different verdict.
It was one kick by Dover police Cpl. Thomas Webster IV that left Lateef Dickerson unconscious with his jaw broken, even though he obeyed police commands to get on the ground. On August 24, 2013 the Dover Police Department were responding to a large fight with Dickerson one of the men fleeing the scene. Webster is white, and Dickerson is black.
"I wasn't intending to kick him in the head. I was intending to kick him in the body," Webster testified to the grand jury. It was the second grand jury to hear the case, indicting Webster after the first one did not.
Jurors considered the case for three days, over 16 hours, before finding Webster not guilty on both felony and misdemeanor charges of assault.
"This obviously was a thoughtful verdict. I hope we can all move on from this," James Liguori, Webster's lawyer, told reporters before hugging his client.
Webster claimed to be in fear for his life and that of the other officer at the scene, because police scanner reports described a man with a gun wearing a yellow shirt. Dickerson wore a yellow hat and white tank top.
Video footage from the other officer's patrol vehicle shows Dickerson complying, though he was moving slowly as police yelled at him. Webster had attempted to kick Dickerson down to the ground as he came up from behind him, but Dickerson held out his hands showing he would get down himself.
"I hope in some small way, at least, this is a general deterrent," Mark Denney Jr., deputy attorney general, told reporters. "We hope that police officers see that if there's a situation where the state feels that they've broken the law, they're going to be held to account."
In November 2013 Webster was put on paid leave pending the outcome of a US Attorney's Office investigation, which turned up no civil rights violations. However, Dover police found his conduct did not fit their policy. The department says it will determine whether Webster will remain employed with them. He has been suspended without pay since the grand jury indictment in May.
"I would just challenge the people to continue to have hope. ... There are people who need justice to work, and this sends the wrong message." La Mar Gunn, president of the Central Delaware branch of the NAACP, told the Associated Press.
"I can say unequivocally that the police don't want this either," Gunn said. "They actually care about building some trust and a stronger relationship with the black community."
"We're going to prove that not only do black lives matter ... black votes and black dollars matter," he said.
The federal civil rights lawsuit filed for Dickerson has been resolved, but no details were forthcoming from Richard Morse, an American Civil Liberties Union lawyer who spoke with AP.