Ready fur action: Cat born without hind legs gets brand new titanium limbs
Published time: 8 Dec, 2015 21:14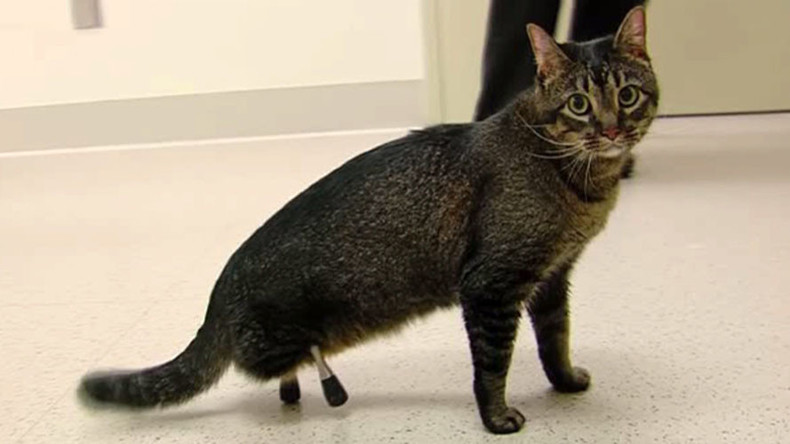 Born with a rare condition which meant his rear legs were only half formed, Vincent the cat has been given a new lease of life through the wonders of biomedical engineering.
The three-year-old domestic short-hair had titanium-alloy prosthetic legs surgically attached to his unnaturally short limbs at Iowa State University's Lloyd Veterinary Medical Center on Wednesday.
Nuisance vermin better be on the lookout because Vincent can now prowl for prey thanks to his Terminator-like extensions.
As he grows bigger, the prostheses can be replaced and even lengthened.
"The first time I saw him after surgery it was scary because you don't normally see those things poking out [of] your cat," said Cindy Jones, Vincent's delighted owner.
According to Dr Mary Sarah Bergh, veterinary orthopaedic surgeon, the exact cause of Vincent's condition remains a mystery.
But the prognosis for a comfortable life now looks paw-sitive.
"He was missing them [hind legs] from the mid-tibia and down; tibia is the shinbone, and he was unable to walk. It's a very unusual abnormality, we are not exactly sure what caused it," Dr Bergh said.
"His bone[s] are looking great, the implants are stable, and he's walking very well on them, so I couldn't be happier on how he is doing."