Woman stabbed at Art Basel Miami, gallery visitors confuse crime for modern art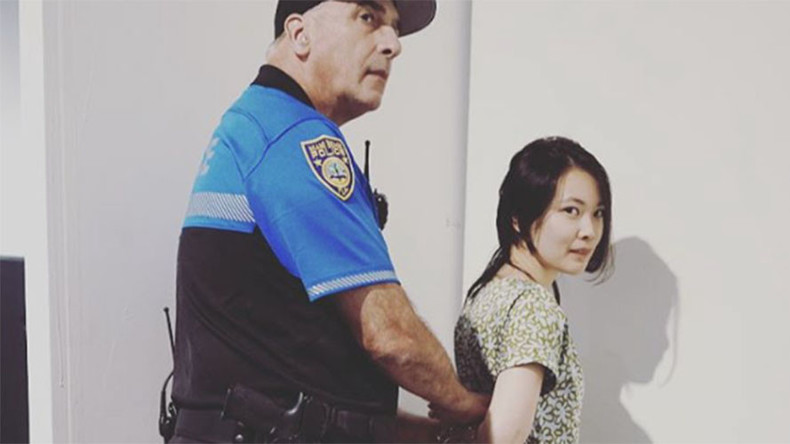 A woman was stabbed at a Miami art gallery after accusing her attacker of following her around and repeatedly bumping into her. But although the victim was left bloody and fearing for her life, visitors didn't bat an eyelid, assuming it was a performance.
The victim, 33-year-old Shin Seo Young, said the Friday night altercation at the Miami Beach Convention Center began after she accused her attacker, 24-year-old college student Siyuan Zhao, of following her around the Art Basel gallery and bumping into her numerous times.
Following the short confrontation, Zhao stabbed Young in the shoulder and neck with an X-Acto knife, according to The Miami Herald.
"I had to kill her and two more," and "I had to watch her bleed!" Zhao said, according to her arrest report. She also confessed to the stabbing during questioning, according to police.
"[Zhao] without warning or provocation stabbed the victim in the right side of the neck and left shoulder, causing several lacerations," the police report said. Young told officers at the scene that she does not know Zhao and had never previously dealt with her.
Despite Zhao's goal to kill Young and "two more," Young was the only person stabbed at the gallery, and was transported to the hospital with non-life threatening injuries.
"The attack was an isolated incident that was immediately secured," Art Basel spokeswoman Sara Fitzmaurice said in a statement. "Our thoughts are with the victim."
But despite the drama unfolding inside the museum, many gallery patrons thought the stabbing was actually a performance.
New York-based sculptor Gregg Hill said he saw a victim being wheeled out of the venue, but never suspected that a genuine crime had taken place.
"People didn't really know what had happened. It was calm and everyone was milling around and talking," he said.
Others believed the police tape cordoning off an area of the venue was part of an art installation, and continued wandering around and sipping champagne.
Zhao, who was immediately arrested at the scene, has been charged with attempted felony murder. Her bond was set at $25,000 during a Saturday court hearing.