1 dead, 1 in custody after shooting, 'hostage situation' in Neenah, WI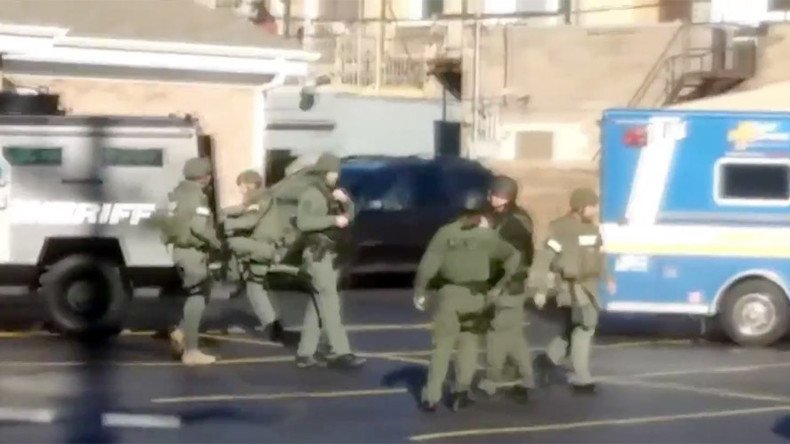 One person died in a shooting incident at a store in Neenah, Wisconsin, that, according to local media, developed into a hostage situation. The neighborhood was evacuated, while a police officer sustained injuries during the standoff.
A man whose identity has not been released by authorities died in hospital following the incident, local media reported, citing police. During the standoff, the man came out of the building carrying a weapon, and after failing to comply with police instructions to drop it, was shot at by officers, local police chief Kevin Wilkinson said at a briefing Saturday.
The man may have been shot at from inside the building as well, the official said, adding that he was not an initial suspect in the incident.
A police officer was also shot at during law enforcement attempts to enter the building and rescue hostages. He has already been released from hospital, officials said, adding that his helmet saved him his life by deflecting the bullet.
Up to 10 people might have been inside the building, while negotiations between police and a suspect continued, Wilkinson said. The name of the suspect has not been released, and the authorities are still uncertain of the cause of the confrontation, according to the official.
The shooting was first reported at around 9 am local time Saturday at the Eagle Nation Cycles shop.
"Neenah PD is monitoring a high risk incident in the 200 Blk of Main St. There has been a report of at least one possible shot fired," the police said on their Facebook page.
Dean Kaufert, the Neenah Mayor, told FOX11 around 30 shots were fired. He also said there were people in the basement of the shop.
Local WBAY-TV 2 reported the incident as an active hostage situation. Theda Clark Medical Center in Neenah was put on alert expecting to receive two patients.
The shooting gathered a heavy police presence outside the shop. Several law enforcement agencies responded, the SWAT Team among them.
A number of homes and businesses in the area were evacuated.
Journalists at the scene initially reported that a suspect negotiated with police for about an hour before being taken into custody. He was reportedly armed with a MAC-10 machine pistol, which was retrieved. Soon after that a second person walked out, was handcuffed and taken away, media reported.
Suspect trying to bait police officers in. Bearcat in place. They have sent a warning out that he's trying to bait them #neenah

— Shelly Moore (@ShellyMooreBB13) December 5, 2015
The events in Neenah come just days after 14 people were killed and 17 wounded when a Muslim couple opened fire at the Inland Regional Center in San Bernardino, California.

The FBI has classified Wednesday's incident as an act of terror, with reports emerging that the attackers had recently pledged allegiance to the Islamic State jihadist group.
You can share this story on social media: