US anti-ISIS propaganda campaign 'in disarray,' ineffective & needs change – review panel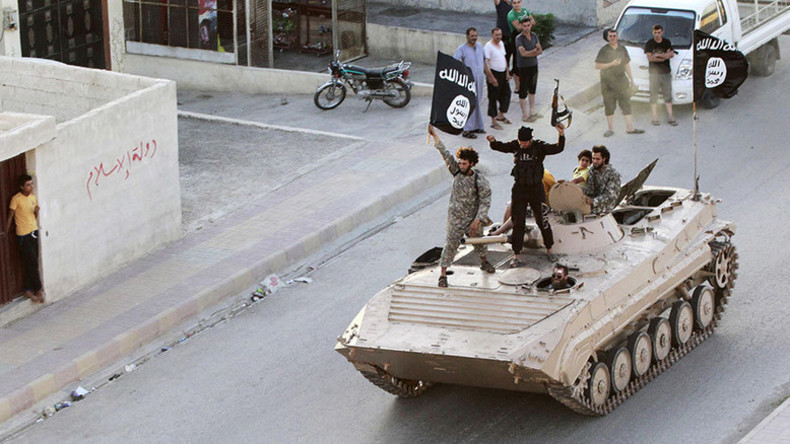 A secret review board "had serious questions" for the State Department over a program to undermine or even troll Islamic State's social media recruitment, proposing that third parties and foreign governments could help the inadequate propaganda effort.
The State Department isn't allowing the 100-page review, mostly a collection of slides, to be released publicly, but the six experts behind the report "had serious questions about whether the US government should be involved in overt messaging at all," according to a US official who spoke with the Washington Post.
Made up of employees of Google, Twitter, and other companies located in Silicon Valley, New York, and Texas, the panel was tasked with analyzing the progress of The Center for Strategic Counterterrorism Communications (CSCC), a small outfit under the State Department.
The CSCC, established by Executive Order 13584 in September 2011, runs more than 350 Twitter accounts for State plus others for the Defense Department, Homeland Security Department, and foreign governments as well. It is also active on Facebook and other platforms, with the goal of throwing a wrench into the gears of Islamic State's recruitment machine.
With an annual budget of about $5 million, a piddly amount in government terms, CSCC officials can't point to much success thus far in competing with Islamic State (IS, formerly ISIS/ISIL), which averages 90,000 messages and replies on social media every day.
One CSCC video production called "Welcome to ISIS Land" looks and sounds like a cheap knockoff of an Islamic State recruitment video, sarcastically mocking the terrorist caliphate and ending with the slogan, "Think again. Turn away," next to the official seal of the State Department. It contains graphic images.
The expert panel advised strongly against employing this type of overt propaganda, recommending the use of people who have escaped Islamic State as well as Middle Eastern allies to carry anti-IS messages instead. One way to do this would be a panel-approved idea to send ideological "SWAT" teams out to ward off radicalization in European or other hot spots.
Those kinds of missions would be managed by a newly-created Information Coordination Cell, a group of 30 intelligence officers, military analysts, and others specialists. Combined with the CSCC, the entire operation would include 80 people.
CSCC "is in disarray," Will McCants, director of the Project on US Relations with the Islamic World at the Brookings Institution, told the Post. "Morale is low, and they're not getting any clarity from the top about what they're supposed to be doing."
The panel's report came as the director of CSCC stepped down. Rashad Hussain, an adviser to President Barack Obama and his special envoy to the Organization of Islamic Cooperation, left the position after barely six months to return to the Justice Department. The director before Hussain was Alberto M. Fernandez, now vice president of the Middle East Media Research Institute, who led CSCC from March 2012 to February 2015.
No new director has been appointed yet, so although the panel's review outlined some new tactics, how they will be received by the new leadership or exactly what kind of strategy would be used to implement them remains to be seen.
"We're getting beaten on volume, so the only way to compete is by aggregating, curating and amplifying existing content," is what Richard A. Stengel, undersecretary of state for Public Diplomacy and Public Affairs, told the New York Times in February.
However, in an interview with the Post this week, Stengel said Islamic State learns "from their mistakes. They change and adapt to the digital battlefield," stressing that the CSCC "has to be equally creative and innovative."
You can share this story on social media: