Get your ass outta here! Donkey poops in back of police car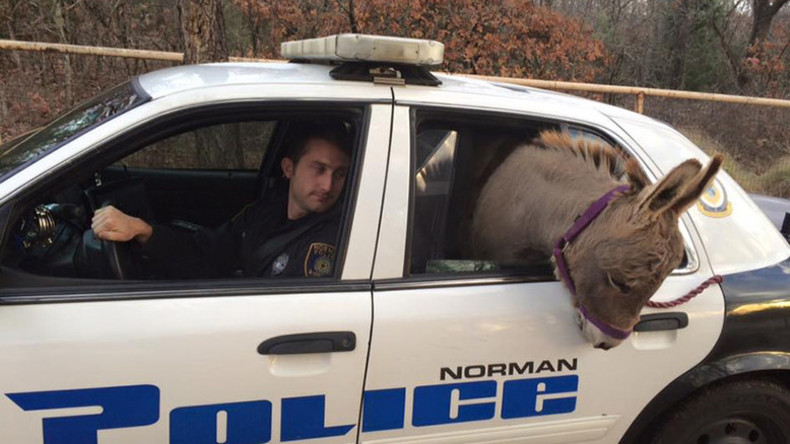 A US police officer literally "haulin' ass" was rewarded with a big steaming mess in the back seat of his cruiser. Police were notified in the college town of Norman, Oklahoma, that a female donkey had lost her way and was in need of assistance.
Officer Kyle Canaan checked it out and ended up fitting the donkey into the back of his car. It helped that she was the "Miniature Mediterranean" breed.
He told the Oklahoma Daily that the unnamed animal was a friendly passenger during the short trip back to her neighborhood - until she took a dump.
"It was a huge mess in the back, huge mess," Canaan said, explaining that he had to power hose the back seats after the incident.
"Our officers encounter unexpected things every day while on duty," a Norman Police Department statement read.
"To ensure the safety of the animal, [the officer] helped the donkey to a nearby home for safekeeping until its owner could be located. It's not everyday that you see a donkey in the back seat of a police car."
READ MORE: Emo emu embarks on 80-mi adventure, attempts escape from Prius
Oklahoma has quite a population of miniature donkeys. AssN9 near Oklahoma City breeds the animals for shows on a 45-acre ranch.
"We strive to produce animals that are superb halter animals that excel in the performance ring, that make extremely versatile competitors and companions," their mission statement says.
Police in Michigan had a similar encounter with an escaped pig earlier this year.
The real pig gave the uniformed pigs the runaround after it escaped from its pen and chased a local woman.
The runaway porker was eventually apprehended, but also left a steamy present for cops.