At least 14 dead as storms & ice wreak havoc across US Midwest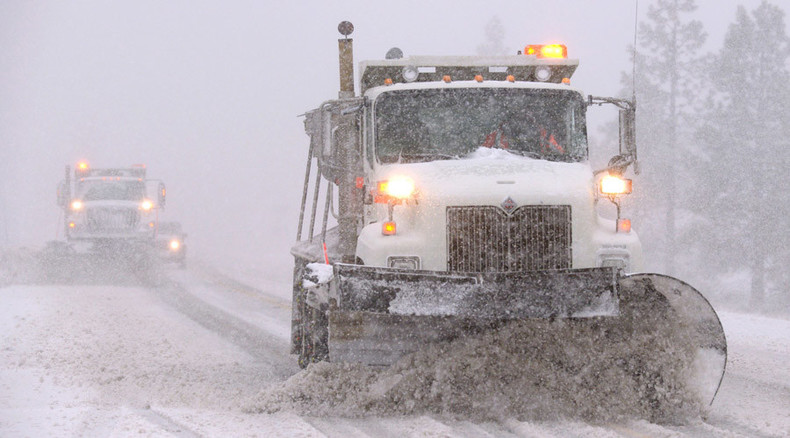 Storms in the US Midwest have claimed at least 14 lives as temperatures plunged below freezing point over the holiday weekend. Tens of thousands of homes have been left without electricity, while driving conditions are treacherous due to icy roads.
A wintry storm system that has been moving through parts of the Great Plains and the Midwest since Thursday has brought extremely cold weather to the region. Eight people have lost their lives in Texas, with a further six dying in the state of Kansas.
The icy conditions are also causing havoc for local residents. Some 78,000 people in parts of Oklahoma have been left without power after trees collapsed onto power lines, according to Oklahoma Gas and Electric Co.
This has prompted the Oklahoma governor Mary Fallin to declare a state of emergency following the ice storm. She has stated that she hopes this will help to facilitate mutual aid for the state and to provide assistance for those who remain without power.
The authorities are also warning people to take extra care when driving due to the icy conditions.
"It's a very dangerous situation when you get temperatures like that near freezing. The ice may look like it's just water," said Alex Sosnowski, Accuweather senior meteorologist, as cited by AP. "The fact is when ice is near freezing, it's much slipperier than when it goes down near 20 degrees."
The treacherous weather on the roads has been blamed for more than a dozen of the deaths to have occurred.
Two teenage boys died on Friday on icy Kansas roads in Newton, a few miles north of Wichita, Corporal Tim Boese of the Harvey County Sheriff's Department said on Saturday.
Two more motorists were killed soon after when a semi-truck jackknifed in nearby Andover, according to the Kansas Turnpike Authority, as cited by Reuters.
While the northern parts of the Midwest are battling snow and ice, Texas has faced a different threat – flooding caused by torrential downpours. Moisture from tropical storm Sandra and the Gulf of Mexico brought record-breaking rain and flooding to the Dallas-Fort Worth region over the holiday weekend.
Texas has been saturated by rain this year, with more than 55 inches record, breaking the previous high of 53 inches recorded in 1991.
The inclement weather is being blamed by experts on a strong El Nino, which has seen a warming of the tropical Pacific Ocean. This has subsequently had a knock-on effect on weather patterns around the globe.