Mysterious spiked baseball bats found scattered across San Francisco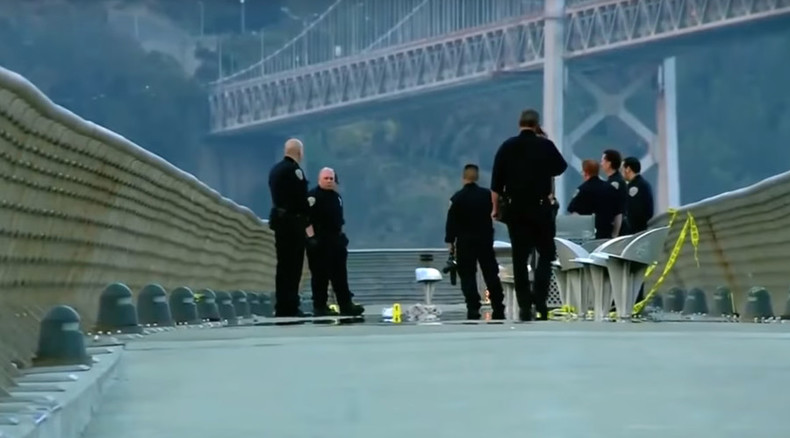 San Francisco police are puzzled by the mysterious appearance of dozens of spiked baseball bats all across the city for the third day in a row. Treating it as a "strange occurrence," authorities have asked for public help in shedding light on the phenomenon.
Wooden or metal baseball bats first graced the streets early Thanksgiving morning, chained to parking meters or poles. The number of improvised and potentially deadly weapons found in the city continues to grow.
On Thursday police discovered 15 bats across the city, some with metal spikes sticking out of them. By Saturday morning the number had increased to 27 as more of these objects of various designs were found around the city.
When the sightings of these strange bats were first reported to the police, SFPD was placed on alert and treated the sites as standing as a potential risk to human lives.
Local media reported that police in the Parkside neighborhood thought one of the bats was a pipe bomb, clearing the area and calling in a bomb squad.
"We thought it was possibly an explosive device. As you can see we evacuated the area," said San Francisco police Lt. Nick Rainsford on Thursday.
"This is a little stranger than normal," San Francisco resident Gerrie Burke told ABC7 News. "So, we called the cops just in case and like two cars showed up immediately."
The bomb squad X-rayed and cleared the bat. As the objects spread throughout the city, police still have no clue who is behind the move, or even the kind of statement that the perpetrators have been trying to make.
"There were bolts in this thing. They had drill holes in it. They knew what they were doing. Whoever did this put it together, this was not put together in an hour," Burke said.
The bats are being taken in by police as evidence. SFPD is now asking the public to shed light on what they called a "strange occurrence."
According to San Francisco Police Sgt. Michael Andraychak, the spikes on the bats allow them to be considered a prohibited or deadly weapon, which is a felony.
You can share this story on social media: