Over 100 refugees, mostly South Asians, go on hunger strike over Thanksgiving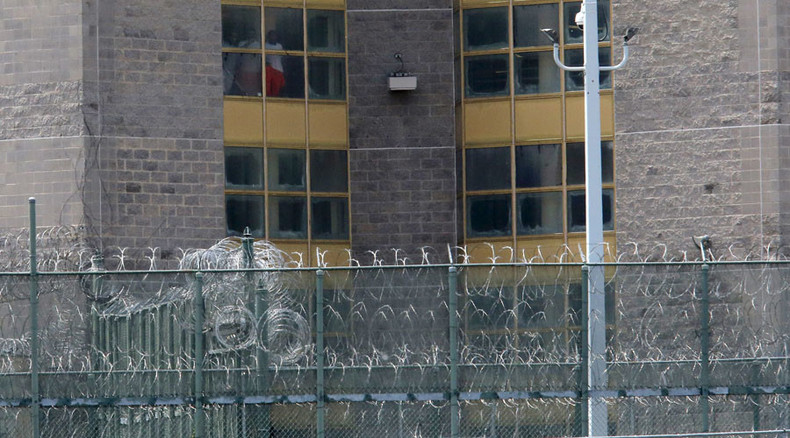 As US families celebrated Thanksgiving, over 100 refugees held at three immigration detention facilities engaged in a nationwide hunger strike. Hunger strikers are calling for an end to detentions and deportations, among other demands.
The hunger strikes began on Thanksgiving eve by asylum seekers, mostly South Asians, held in three detention centers in California and Alabama.
Californian authorities confirmed that 21 asylum seekers at Musick Jail in Irvine, and 14 at Theo Lacy Jail in Orange, began refusing meals around mid-day on Wednesday, according to the Orange County Register.
"Musick actually started during the daytime," Fahd Ahmed, director of the New York-based Desis Rising Up and Moving (DRUM) told the OC Weekly. "Officers moved in and threatened the detainees."
Four ended their hunger strike two hours in, but others who stayed committed got immediately transferred from Musick Jail over to Theo Lacy for observation.
"US Immigration and Customs Enforcement takes the health and safety of those in its care seriously," Virginia Kice, ICE spokeswoman told the Orange County Register. "Accordingly, the agency is closely monitoring the welfare of 35 residents housed at Theo Lacy immigration detention facility."
Under federal immigration guidelines, detainees on hunger strike are advised of the risk to their health and are still offered three meals a day and given a regular supply of drinking water and other beverages.
RT contacted ICE for an update on the hunger strikes but the agency's spokesperson is away on federal holiday over the Thanksgiving weekend.
Other hunger strikes are also underway at Alabama's Etowah Detention Center with 48 men on strike, and Otay in San Diego where 26 were on strike.
The hunger strikers have issued demands: They are calling for an end to all detentions and deportations, and release on parole or supervision for those held more than six months. They are seeking improved detention conditions with better medical access, phone, clothing, food and discipline.
Many of the detention facilities have been outed for poor conditions and services by Detention Watch Network, Washington DC-based organization. Alabama's Etoweh is said to have the poorest conditions, including spoiled food.
Attorney Paromita Shah of the National Lawyers Guild said prolonged detention of asylum seekers violates a Department of Homeland Security policy known as the parole directive.
"Under that protocol, if you pass what's called a credible fear interview, which is an interview that happens when someone presents themselves at the U.S. border and requests asylum, there's an interview that's conducted by an asylum officer and they will either decide whether the person has passed the credible fear interview or not passed the credible fear interview," Shah told Free Speech Radio News. "And in almost all these cases, they passed their credible fear interview. However, the policy directs that they should be released and that really has just been violated for several months now and no one is very clear as to why this is happening."
Shah said instead of people being released to prepare for these very complicated cases to defend against very complicated charges that are being brought against them, instead the asylum seekers are forced to collect evidence in detention far away from any legal resources.
Many of the hunger strikers are from Bangladesh, Pakistan and Afghanistan who came to the US through the Mexican border. The UN Refugee Agency said it had recorded a nearly five-fold increase in asylum seekers arriving in the US from the Northern Triangle region of El Salvador, Honduras and Guatemala since 2008.
Those detainees from Bangladesh are escaping persecution and violence in their home countries and fear being forcibly returned home, according to DRUM. Many of them are targeted for their affiliations with the Bangladesh Nationalist Party (BNP), a political opponent to the current government. The BNP is classified by the Department of Homeland Security as a Tier III terrorist organization, a label that immigrant advocacy groups adamantly reject.
"ICE is keeping these people in indefinite detention when they should be released," said Ahmed, director of DRUM in a press statement. "They came to this country seeking safety and instead have been placed behind bars to fill a detention bed quota for years at a time."
This is the latest of a succession of hunger strikes by inmates at other ICE facilities in California, Louisiana, Texas, over the past few months.
On October 14, 54 South Asian asylum seeks from Bangladesh, India, Afghanistan and Pakistan refused food and water at the El Paso detention center in Texas. Five days later, another 14 Indian and Bangladeshi immigrants began a solidarity hunger strike at the Lasalle Detention Center in Louisiana.
On October 28, 27 women, mostly from Central America and Mexico at the T. Don Hutto Facility, a facility in Taylor, Texas, run by Corrections Corporation of America (CCA), also began a hunger strike asking for immediate release.
In their letters, made public by a civil rights group, they highlight "grave injustices," detentions of up to 18 months, inedible food, and "little or no security."
"There are grave injustices being committed, detentions spanning eight months, 10 months, a year, a year and a half, so in the end we are being told we have no rights and will be deported, with offensive words and gestures that make us feel worthless," Magdrola, from Guatemala, wrote in her letter, published by Grassroots Leadership along with 16 letters from other detainees.
On the same day, 400 men detained at the Adelanto immigration in center, California, also went on hunger strike.
"Over the last two weeks, I have visited men at El Paso and LaSalle while they were on hunger strike. They remained hopeful, but it was so difficult to watch them. I saw them weak from hunger, beaten down by the system that threw many of them into solitary confinement in reaction to them exercising a First Amendment right," Jan Meslin, Director of Social Chance for Community Initiatives for Visiting Immigrants in Confinement (CIVIC), a national network of visitation programs told OC Watch told #NotOneMore.
"As these men at Adelanto launch this fourth hunger strike, we want to remind ICE and GEO Group officials that we are watching for retaliation and we will not stand by if they retaliate against any of these brave people, trying to highlight the horrid conditions of their captivity."
You can share this story on social media: