Justice for #LaquanMcDonald: Demands and grievances of Chicago protesters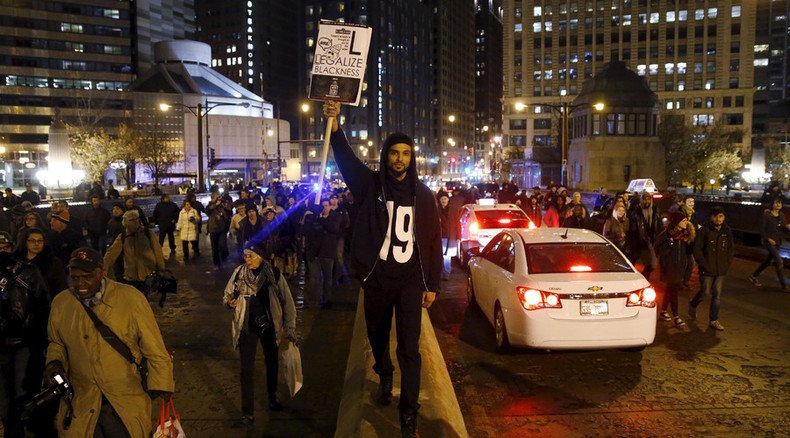 Chicago has been in an uproar for two days straight as hundreds protest for justice for Laquan McDonald, a black teen shot dead by police a year ago. Activists say the protest will continue into Thanksgiving, if their demands are not met.
Crowds have been flocking to the streets of Chicago since Tuesday night, after the forced release of a dashcam video, which unveiled details of McDonald's death on October 20, 2014. He was shot dead by a white police officer Jason Van Dyke, 37, who fired at least 16 time, killing the teenager.
RT's Manuel Rapalo is on scene in downtown Chicago at the site of the second night of protests over the released footage of the killing of Laquan McDonald by police. Protesters speak out against the Chicago Police Department and Mayor Rahm Emanuel.

Posted by RT America on Wednesday, November 25, 2015
Frustrated with police and prosecutors' reluctance to charge Van Dyke with a murder, protesters are accusing law enforcement of covering up the killing of McDonald. The police officer was officially charged only on Tuesday, a year and one month after fatally shooting the black teenager.
The move, however, has failed to quell protests with hundreds now demanding justice for McDonald and punishment for the state's law enforcement.
Activists have outlined several demands, which if not addressed, they warn, would extend their protest into Thanksgiving Day.
The resignation of State's Attorney Anita Alvarez is one of the key demands. Protesters accuse her of "continued protection of violent and corrupt police officers."
They also demand Chicago Police Superintendent Garry McCarthy Protesters to step down for failing to stop "culture violence" towards black people.
Protesters say all officers who witnessed the shooting of McDonald but remained silent also must be charged.
Activists want a special prosecutor to be appointed for McDonald's case as well as for all other potential killings by police which may occur in the future.
On top of that, #LaquanMcDonald protesters demand the UN to immediately investigate the CPD and the Cook County State's Attorney's office for violating the human rights of black people.
Protesters also demand a meeting with Chicago mayor Rahm Emanuel.
Organizers also request that supporters do not shop on Black Friday.
Chicago authorities have not responded to demands yet. Attorney Anita Alvarez previously issued a statement commenting on the delayed accusations. She claimed that her office "took the necessary time that was required to conduct a thorough and comprehensive investigation."
You can share this story on social media: