Turkeys suffer from cruelty at top-rated Whole Foods farm, activists say (VIDEO)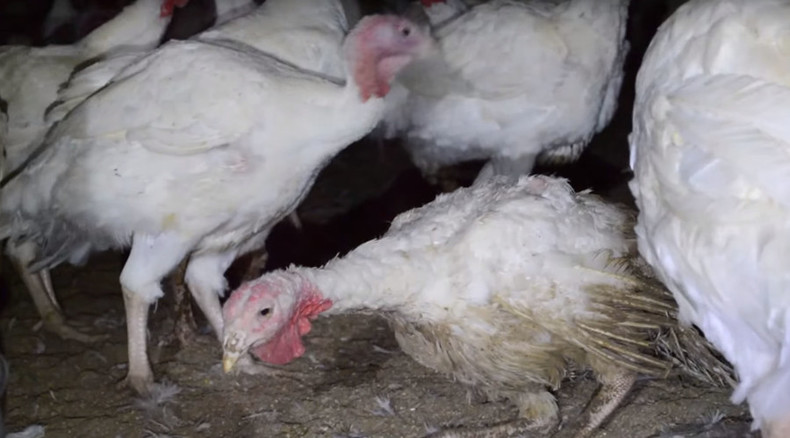 An animal-rights organization released an undercover video alleging inhumane treatment of turkeys at a Whole Foods supplier farm that was given top animal welfare ratings. The group says the turkeys live in crowded barns with feces-covered floors.
Direct Action Everywhere (DxE), the animal rights group that conducted the investigation, issued a report on Tuesday titled "A Deadly Feast: What you are not told about your Thanksgiving turkey."In it, they allege that the Diestel Turkey Ranch, which receives Whole Foods' highest possible ratings for animal welfare, operated a false front featured in Whole Foods promotional materials, while the actual conditions at their commercial facility were much worse.
"This particular case was galling because the farm in question had a 'front farm' that according to water quality records has not being a commercial farm in several years. And, the front farm is where all the photos and videos come from that Whole Foods have on their website," Zach Groff, Investigator and Press Coordinator for DxE told FOX Business. "The truth is that a vast majority of the turkeys actually come from another facility that is absolutely horrific."
A video released by DxE on Monday shows turkeys with swollen eyes and matted and missing feathers, being kept in a filthy, crowded barn. It also shows a dead turkey decomposing among the other birds.
(WARNING: The following video contains graphic content)
Whole Foods spokesman Michael Silverman told FOX Business that it is important for consumers to understand the mission of animal activist groups like DxE.
"Everything they say, do and show is produced with that specific goal in-mind," he said. "Within hours of this video being brought to our attention, Whole Foods sent an expert team to evaluate the conditions of the Diestel farm. Our team found that the conditions were not as they were portrayed in the video."
The issues reported by the activist group apparently violate Whole Foods' own minimal standards of human treatment that is administered by an independent non-profit organization. The rating system used by Whole Foods goes from a scale of 1 to 5+, and Diestel Turkey Ranch has the 5+ rating, which is characterized as "Animal centered; entire life on same farm." The minimum rating for animals bought by whole foods says that animals live their lives with space to move around, with "no crates, no cages, no crowding."
Global Animal Partnership (GAP), the non-profit that Whole Foods entrusts with its ratings system, sends third-party firms to rate the animal welfare practices of farms every 15 months to ensure compliance.
Diestel Farms says they cannot confirm if the video is from their farm and that they pay close attention to the well-being of their animals.
"Diestel farmers walk the turkeys every day," the family said in a statement. "It seems very clear that the mission of Direct Action Everywhere is to end farm animal agriculture and meat consumption completely."
Following the activists' allegations, Whole Foods sent a representative to the Diestel ranch. Two third-party certifiers for Global Animal Partnership also visited the ranch and conducted an evaluation this past weekend, GAP officials told the Wall Street Journal.
"Both audits and visits were wonderful, and there were no issues whatsoever," Heidi Diestel told the Sonora Union-Democrat.
DxE says that they targeted Whole Foods in their investigations because they're the most prominent and aggressive promoter of the idea of humane animal agriculture.