'Rarest of beasts': Jeff Bezos' space company launches & lands reusable rocket (VIDEO)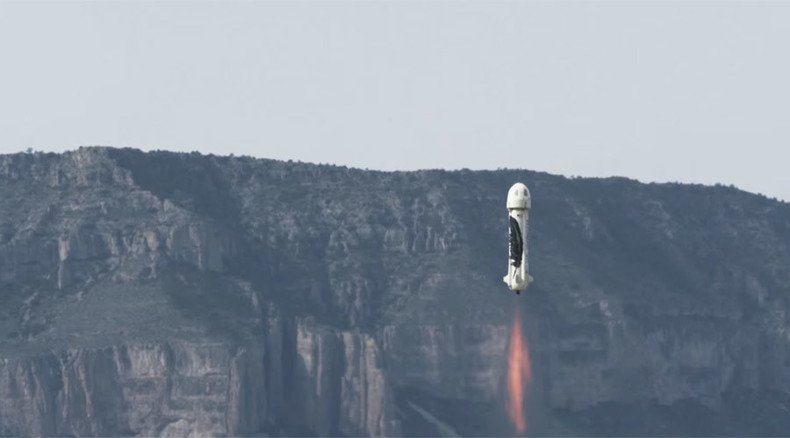 Elon Musk has serious competition in the private spacecraft business. The space venture of billionaire Jeff Bezos has successfully landed its reusable New Shepard rocket, after launching it into space at an altitude of over 100 kilometers.
"Blue Origin's reusable New Shepard space vehicle flew a flawless mission—soaring to 329,839 feet (100.5 kilometers) and then returning through 119-mph high-altitude crosswinds to make a gentle, controlled landing just four and a half feet from the center of the pad. Full reuse is a game changer, and we can't wait to fuel up and fly again," Blue Origin founder Bezos wrote in a press release.
The billionaire founder of Amazon said that although rockets have always been expendable, that is no longer the case. "Now safely tucked away at our launch site in West Texas is the rarest of beasts, a used rocket."
The New Shepherd vertical takeoff and vertical landing vehicle is aimed at carrying six people into space to enjoy four minutes of weightlessness and a view of Earth at altitudes beyond 100 kilometers (328,084 feet), the internationally-recognized boundary of space.
"We are building Blue Origin to seed an enduring human presence in space, to help us move beyond this blue planet that is the origin of all we know," said Bezos.
Since the turn of the centuries, private investors rushing into spaceflight may indicate a shift of space exploration out of the hands of government and into commercial enterprises. Blue Origin, launched in 2000, has had $500 million sunk into it by Bezos alone. Other high-profile billionaires have gotten into the game as well, with Elon Musk unveiling SpaceX in 2002, and Sir Richard Branson founding Virgin Galactic in 2004.
You can share this story on social media: