New York's highest court blocks bid to unseal testimony on Eric Garner's death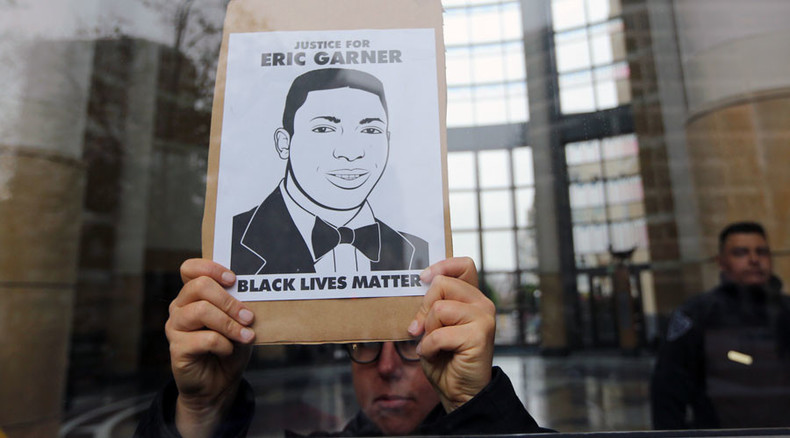 New York's highest court blocked an effort to unseal the testimony that a grand jury heard before declining to indict a police officer in the wake of the death of African American Eric Garner.
Without comment, the New York Court of Appeals denied motions for appeal on Monday to overturn a lower court decision that kept grand jury minutes secret. New York Public Advocate Letitia James, along with the New York Civil Liberties Union, the Legal Aid Society and the National Association for the Advancement of Colored People, had sued to overturn the court ruling keeping the testimony secret.
In the suit, they argued that people needed a clearer view of how grand jurors reached their decision in a case that ignited widespread protests about police conduct.
"Dr. [Martin Luther] King taught us that the arc of the moral universe is long, and also taught us to never stop fighting until the arc is bent towards justice," James said in a statement about the court's decision, according to the New York Daily News.
Eric Garner, 43, died on July 17, 2014 in Staten Island, when police attempted to arrest him for allegedly selling loose, untaxed cigarettes. A New York City police officer used an apparent chokehold on Garner, leading to his death. The incident was recorded on a bystander's cell phone, and received national attention and protest. However, a grand jury declined to indict NYPD Officer Daniel Pantaleo in connection with Garner's death.
"We took on this case to pursue transparency, accountability and to restore the public's faith in justice including through legislation and other public policy making," James said.
"Although this decision is disappointing, we take heart in the progress we have made, such as the establishment of a special prosecutor and the nationwide attention the cause of criminal justice reform has received."
Arthur Eisenberg, legal director of the New York Civil Liberties Union, told the Staten Island Advance, the court's decision was "unfortunate" and "the legislative process would have benefited greatly from an understanding of how and why the Garner grand jury reached the decision that it reached."
Then-Staten Island District Attorney Daniel Donovan had argued that grand jurors and witnesses expect confidentiality. Donovan now represents Staten Island in Congress.
"We respect the Court's decision and have no further comment," a spokesman for Acting District Attorney Daniel Master told the Staten Island Advance.
In March, state Supreme Court Justice William Garnett said applicants in the suit had failed to establish a "compelling and particularized need" for disclosure. Judge Garnett also said releasing the minutes could potentially subject witness to intimidation if they were to testify before a federal grand jury or in a federal trial.
James told the Daily News she is "eagerly" awaiting a decision by federal investigators on whether they will purse civil rights violations against Pantaleo for the chokehold death.
If the federal government does pursue civil rights charges, it would have to be proven beyond a reasonable doubt that the officer had deliberately violated Garner's rights and targeted him because of his race. Department of Justice officials decided against pursuing civil rights charges in the case of the death of 18-year-old Michael Brown in Ferguson, Missouri, which prompted a nationwide wave of protests last summer. Yet the department did issue a scathing report on police practices in Ferguson, prompting the chief of police and several officials to resign.
Earlier this year, New York Governor Andrew Cuomo signed an executive order giving state Attorney General Erich Schneiderman the power to serve as a special prosecutor in cases where an unarmed civilian is killed by police. The order, however, is not retroactive.
In July, New York City settled with the Garner family in a wrongful death suit for $5.9 million, without admitting culpability. The settlement is significantly greater than city payouts in other high-profile wrongful death cases, such as $3.9 million to the family of Ramarley Graham and $3 million to the family of Amadou Diallo, both of whom were fatally shot by police. Still, it is a fraction of the $75 million Garner's family had originally sought.
Garner's mother, Gwen Carr, said the settlement was not a victory. "The victory will come when we get justice. Where is the justice?" she asked.