'See something, send something': New York's new app to help prevent terrorism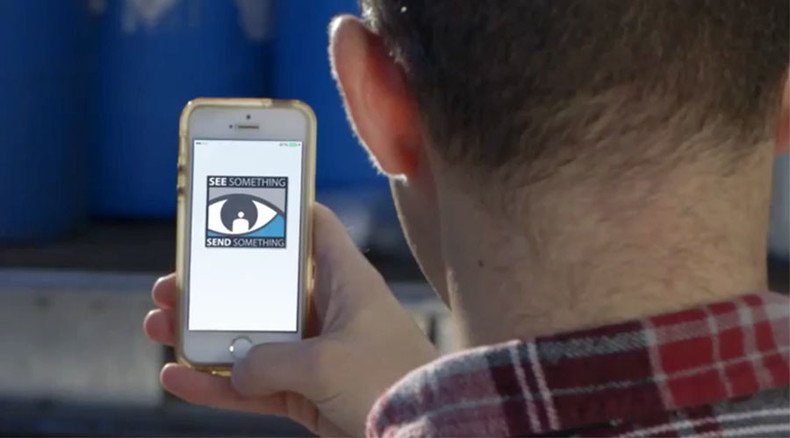 In the wake of attacks in Paris, New York is taking its fight with terrorism to a new level. The governor has rolled out a tip line-inspired app called "See something, send something," urging people to send photos of suspicious objects as they notice them.
"See something, send something" is an app for Android and iOS smartphones that lets people to anonymously submit photos and notes about potential threats right as they see them. Pictures and messages will be immediately received by the state Intelligence Center. If found relevant, "the hints" would be forwarded to the appropriate law enforcement agency.
The app – also available in Colorado, Louisiana, Ohio, Pennsylvania and Virginia – includes information on what to look for and when to report suspicious activity.
"This app works just like a traditional telephone crime tip line or hotline, except it is available with the touch of a finger on a handheld device. If you see something that may be linked to terrorism, send something," New York State Police Superintendent Joseph A. D'Amico said.
Yet Governor Andrew Cuomo also stressed that the new app should not replace emergency calls.
In an additional precautionary measure, the Metropolitan Transportation Authority (MTA) is going to expand. It will hire 46 more police officers to increase counterterrorism capabilities at Grand Central Terminal, Penn Station and throughout the Metro-North Railroad, Long Island Rail Road and Staten Island Railway systems.
"These new efforts are essential pieces in our fight against terrorism," Governor Cuomo said. "We have stepped up our preparedness in the aftermath of the Paris attacks, and we continue to remain vigilant against those who seek to spread fear and violence. Despite the tremendous pain and loss that terrorist attacks around the world have caused the people of this state, the family of New York stands stronger than ever before."
Security has been stepped up in New York since the deadly attacks in Paris on November 13. Last week, the Islamic State claimed responsibility for killing 132 people in the French capital, and threatened attacks on New York City and Washington, DC.
Last week, the NYPD also introduced its new Critical Response Command, which trains a specific group of officers in counterterrorism tactics.
You can share this story on social media: