Chipotle E. coli outbreaks hit six states, poisons 45 – CDC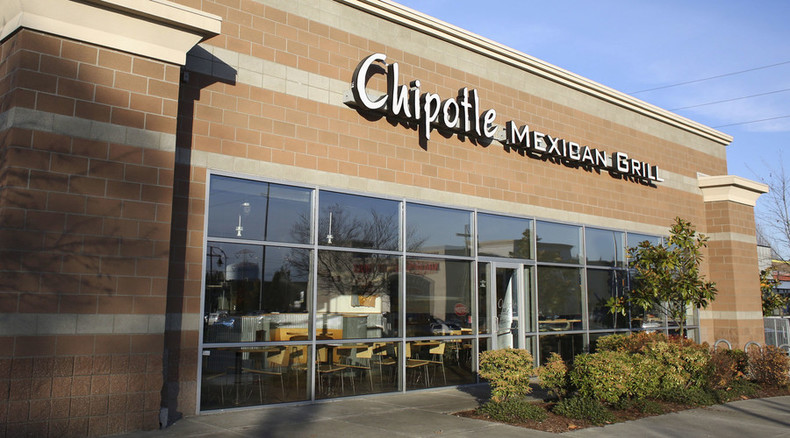 The Chipotle E. coli outbreak has now spread to six states, ranging from Oregon to New York, the CDC said. As of now, 45 people have come down with food poisoning since health officials were first alerted to the outbreak in late October.
Of the 45 people sickened by food poisoning from the same strain of E.coli, the US Centers for Disease Control confirmed cases in six states: California (2), Minnesota (2), New York (1), Ohio (1), Oregon (13), and Washington (26). On Friday, the CDC confirmed the illness was recorded in three additional states – California, Ohio and New York.
The new reported cases of illness were linked to Chipotle restaurants in Turlock, California; Akron, Ohio; Amherst, New York; and Burnsville, Minnesota, according to Reuters. Of those who became ill, 43, or 96 percent, reported eating at Chipotle Mexican Grill.
Due to the timing of the reports, Chipotle did not believe it was necessary to close those restaurants, according to the chain's spokesman, Chris Arnold.
The outbreak began in late October and early November in Seattle, Washington and Portland, Oregon, where public health investigators first identified the E. coli infections. The company closed 43 restaurants as a precaution.
Sixteen people have been hospitalized with food poisoning, but there have been no reports of death. The illnesses were recorded from October 19 to November 8, 2015. The victims of the outbreak ranged in age from two years to 94, with a median age of 22. Fifty-eight percent were female. Those infected usually develop symptoms within three to four days of being exposed to E. coli bacteria.
The CDC said evidence suggests that a common meal item or ingredient served at Chipotle restaurants in several states is the most likely source of the outbreak, but the investigation is still ongoing.
News of the additional cases sent Chipotle shares down more than 12 percent, according to Reuters. Chipotle has 1,931 locations, each of which brings in about $2.5 million in revenue per year on average, the outlet reported.
Escherichia coli (E. coli) bacteria normally lives in the intestines of people and animals, but some strains can cause illness and, in some cases, death. It is potentially lethal for children under five and senior citizens. The strain of E. coli found in Washington and Oregon is most commonly associated with contaminated food.
The infection starts when a person swallows tiny amounts of human or animal feces. This often occurs when swimming in a lake, petting an animal, or eating food prepared by people who did not wash their hands after using the restroom.
The infection can cause vomiting, abdominal cramps and bloody diarrhea, so treatment includes hydration. Most cases resolve themselves within seven days.
Chipotle reopened 43 restaurants last week in Washington State and Oregon, after deep cleaning the eateries and replacing food. The company, which has also hired food safety consultants and is changing food preparation procedures, is taking similar actions at the other restaurants linked to the outbreak.
Seattle attorney Bill Marler, who is representing nearly three dozen people affected by the outbreak in Oregon and Washington state, told Reuters the increase in reported cases raises the likelihood that the culprit will be identified.
"There has to be a common supplier with a common food item," Marler said.