Reach for the stars: Celebrity-only terminal to open at Los Angeles international airport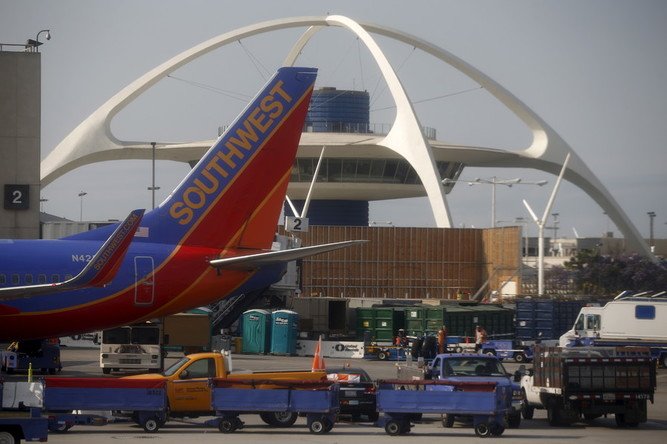 Exclusive amenities for celebrities and big spenders will be even more extravagant at a new LAX terminal. The Los Angeles Suite will feature catered lounges, but also promises the general public alleviated traffic caused by paparazzi.
With support from the likes of actors Michael J. Fox and Reese Witherspoon, a proposal to revamp an empty cargo building into a VIP's dream won unanimous approval by the Board of Airport Commissioners, which oversees Los Angeles International Airport (LAX).
Behind secured entrances, the rich and famous will be guarded from media and crowds for the price of $1,500 to $1,800 per visit. Access to a private, ritzy lounge with to-order catering is just the beginning of the swanky experience. Private security would replace Transportation Security Administration and Customs and Border Protection officers, and a car will take the posh guests straight to their plane, where they'll board first class before anyone else.
Gavin de Becker & Associates, a celebrity security firm, will run the 43,750-square-foot terminal and 13,840-square-foot parking lot, which is expected to bring in $3.7 million in extra revenue to LAX within its first year and $34 million within the 10-year lease.
At the board meeting, Deborah Ale Flint, executive director of Los Angeles World Airports, said traffic would be less clogged by paparazzi attracted to celebrities.
In turn, de Becker promises celebrities will require just 60 steps to reach their plane, as opposed to the 2,200 the general public must trudge from parking lot to gate. The company hopes the idea will catch on at other airports in the future, such as New York's JFK or those in San Francisco, Miami, Chicago, and Dallas.
Based on the Windsor Suite inside London's Heathrow airport, the terminal will bring relief to security personnel like Mark Haught, a federal security director, who told the Wall Street Journal he was nearly trampled by a mob chasing Kim Kardashian through LAX.
"It's a problem that has existed at this airport for a very long time," he said.
That problem will exist a little longer as the luxurious opening is still about six months away, meaning there won't be any relief for the 2.1 million people expected to fly in and out of LAX this Thanksgiving, a 6.9 percent increase from 2014.
You can share this story on social media: