Bernie Sanders: We need new 'NATO' that includes Russia to defeat ISIS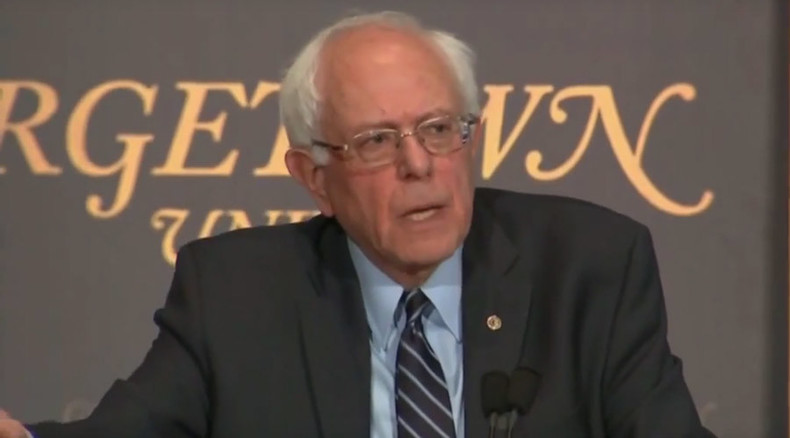 What is Democratic socialism? Bernie Sanders, often criticized for endorsing this political philosophy, explained that his view is in sync with America's development. He also called for shifting foreign policy and creating a "new NATO" including Russia.
Senator Bernie Sanders (I-Vermont) spoke in front of an auditorium full of supporters at Georgetown University on Thursday, arguing that his endorsement of the much-vaunted political philosophy of democratic socialism makes him the genuine heir to long-held traditions of the Democratic Party, not a radical.
In doing this, he invoked the name of President Franklin D. Roosevelt, whom Sanders said initiated programs to secure the middle class with New Deal programs.
"[FDR] redefined the relationship of the federal government to the people of our country. He combatted cynicism, fear and despair. He reinvigorated democracy. He transformed the country. And that is what we have to do today," Sanders told the audience. "And, by the way, almost everything he proposed was called 'socialist.'"
Almost everything that FDR did in his day was called socialist by his opponents, but have now become "the fabric of our nation," Sanders said.
Thirty years later, Sanders said, Lyndon B. Johnson followed in the footsteps of FDR and came out with measures that were considered radical at the time: Medicare and Medicaid.
Sanders bemoans the fact that, despite huge increases in worker productivity and technology since the time of those two Democratic presidents, "tens of millions of Americans" have come to lack the basic necessities of life.
"Yes, we are better off today economically than when Bush left office," he said. "But for the last 40 years the middle class has been in decline and the faith in our political system has been extremely low."
What would Democratic Socialism do?
In his speech, Sanders called for a minimum wage that would allow people to get out of poverty and free education.
"Democratic socialism means that if somebody works 40 hours a week, that person should not be living in poverty, that we must raise the minimum wage to a living wage: 15 bucks an hour over the next several years," he said.
On education, Sanders continued to call for free tuition at public universities.
"Public education must today allow every person in this country who has the ability, the qualifications, and the desire, the right to go to a public college or university – tuition free," he said. "Is this a radical social idea? I don't think so."
Sanders drew parallels between democratic socialism and the beliefs of Pope Francis to dispel the fears about radicalism.
"We need to create a culture which, as Pope Francis reminds us, cannot just be based on the worship of money," the Vermont senator told the audience at the Catholic university's auditorium to loud applause.
Indeed, proudly wearing the label has raised questions about Sanders' electability, prompting him to set the record straight about what that does and doesn't mean.
"The next time you hear me attacked as a socialist, remember this," he said. "I don't believe government should own the grocery store down the street or control the means of production, but I do believe that the middle class and the working families who produce the wealth of America deserve a fair deal."
Understanding foreign policy mistakes
Sanders used the opportunity to take aim at Super PACs that "buy elections" that so many politicians – including Democratic frontrunner Hillary Clinton – rely on for their campaigns.
He further contrasted his own policies with that of his main rival, Hillary Clinton, by stressing his opposition to foreign policy that revolves around regime change.
The United States' response, Sanders said, must begin with an "understanding of our past mistakes" in foreign policy, referencing regime changes over the past 60 years that have resulted in instability.
"These are the sorts of policies do not work, do not make us safer, and must not be repeated," he said.
Instead, Sanders suggested that the United States must work with other players on the international scene to create a new "organization like NATO" to combat radical Islamic terrorism and address causes underlying the ideology that drives it. Notably, this new organization would include Russia, which NATO was created to oppose when the country was part of the Soviet Union.
"A new and strong coalition of Western powers, Muslim nations, and countries like Russia must come together in a strongly coordinated way to combat ISIS [Islamic State], to seal the borders that fighters are currently flowing across, to share counter-terrorism intelligence, to turn off the spigot of terrorist financing, and to end support for exporting radical ideologies," Sanders said.
In his call for unity, the senator said that the Gulf States aren't pulling their weight when it comes to fighting ISIS or taking in refugees. While nations like Jordan, Turkey, and Lebanon have offered considerable military support and have taken in millions of Syrian refugees, countries like Saudi Arabia, Qatar, and Kuwait have not done the same.
"King Abdallah [of Jordan] is absolutely right when he says that that the Muslim nations must lead the fight against ISIS, and that includes some of the most wealthy and powerful nations in the region, who, up to this point, have done far too little," Sanders told the audience.