65% of Americans approve of sending more ground troops to fight ISIS – poll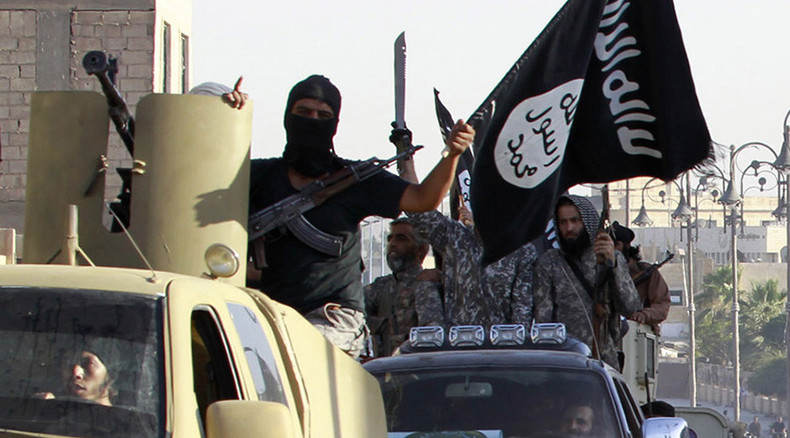 An NBC News poll found six out of ten Americans would support sending additional ground troops to fight Islamic State (IS, formerly ISIS/ISIL). The same poll found 58 percent believe "using overwhelming military force is the best way to defeat terrorism."
The poll was conducted in the wake of a series of terrorist attacks in Paris last week in which 129 people were killed and 350 injured.
Roughly 65 percent of Americans would either "strongly support" (33 percent) or "somewhat support" (32 percent) sending additional grounds troops to fight Islamic State in Iraq and Syria, compared to about 31 percent who wouldn't. The poll was conducted two days after the Paris attacks.
Interestingly, a Gallup poll conducted six days before the Paris attacks found 53 percent of Americans were opposed to sending ground troops to fight IS, with 43 percent in favor. The majority of supporters for ground troops in the Gallup poll were Republicans.
Other findings from the NBC survey revealed that nearly four in ten Americans said they had felt depressed in the past few days because of concerns about terrorist attacks or the war against terrorism. Eight out of ten Americans said they were either strongly or somewhat in favor of extensive surveillance and security checks in public places, such as stadiums, movie theaters, and shopping malls, to prevent terrorist attacks.
Eighty-one percent of Americans surveyed said they were following the news coverage very or somewhat closely. Only 45 percent said the US government's effort to reduce the threat of terrorism was going well, down from 62 percent in April. Just 24 percent thought the US and its allies were winning the fight against IS, while 70 percent said they were losing.
More than half of Americans said they were somewhat (38 percent) or very worried (16 percent) that they or someone in their family might become the victim of a terrorist attack, although 44 percent said they were not worried.
The national survey was conducted online between November 15 and 17, and polled 5,755 adults aged 18 and over. The majority of those polled were white (4,440), with 377 black, 461 Latino, and 477 other respondents. A political breakdown showed 2,440 respondents were Registered Republicans and 1,983 were Democrats.
Up against the findings of the NBC survey is a petition circulating online that was posted by Roots Action, a non-profit, progressive public policy advocacy group, asking that the "Paris tragedy not be exploited for more war."
"At this time of grief, our hearts go out to the people of France, as well as to the people of Syria, Iraq, Lebanon and other countries traumatized by deadly violence – people of all races, religions and nationalities," the petition read.
"We reject any attempt by political leaders to exploit tragic events to promote more war."
The organizers are seeking 30,000 signatures. By Wednesday evening, it had received more than 27,703.
In light of the Paris attacks and other atrocities, innumerable news articles have been posing questions as to the best way to fight terrorism. A Rand Corporation paper published in 2008 was titled "How do terrorist groups end?" It studied 648 terrorist groups that existed between 1968 and 2006 and found that they rarely die as a result of winning or losing a military campaign.
"Rather, most groups end because of operations carried out by local police or intelligence agencies or because they join the political process. This suggests that the United States should pursue a counterterrorism strategy against al Qa'ida that emphasizes policing and intelligence gathering rather than a 'war on terrorism' approach that relies heavily on military force," according to the publication's abstract.
You can share this story on social media: