Secret Service rebuked in Congressional hearing over whistleblowers, lack of discipline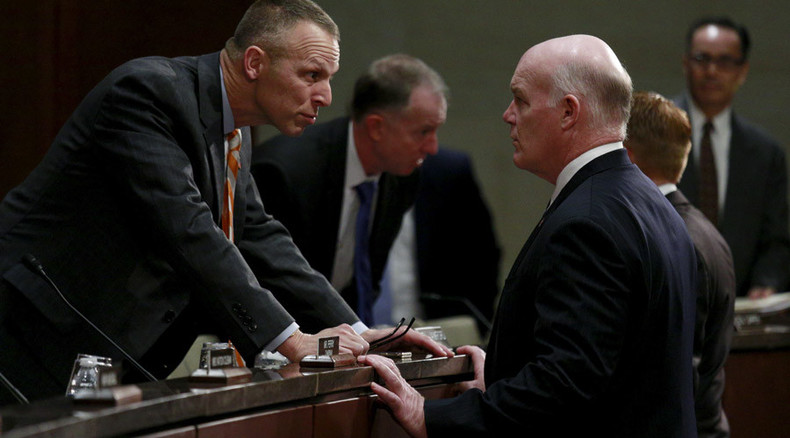 Suspending dozens of Secret Service agents wasn't good enough for some lawmakers questioning agency director Joseph Clancy. Aside from rampant malfeasance, the agency's treatment of whistleblowers also came up during a joint congressional hearing.
Both the House and Senate Homeland Security committees, along with their subcommittees, convened Tuesday to follow up on a four-month investigation, published in late September by the Office of Inspector General (OIG) for the Department of Homeland Security (DHS), which found "deeply disturbing" behavior at the agency.
According to the report, at least 42 Secret Service agents mischievously accessed the rejected 2003 application from Congressman Jason Chaffetz (R-Utah) to the Secret Service on 60 occasions. At the time, Chaffetz, as chair of the House Oversight and Government Reform Committee, was investigating charges against the agency over the mistreatment of whistleblowers, the OIG reported.
"Why haven't you fired these people?" freshman Representative Buddy Carter (R-Georgia) asked after Clancy announced that only 3- to 12-day suspensions had been handed out. Clancy promised more disciplinary action was coming for supervisors.
"The most we can hope for, the most disciplinary, the toughest disciplinary action right now is not a loss or revocation of your security clearance, is not a loss of your employment – it's 12 days suspension. I just want to be clear, is that correct?" Representative Scott Perry (R-Pennsylvania), chairman of the subcommittee on oversight and management efficiency, asked rhetorically.
"Knowledge of Chairman Chaffetz's application was widespread and was fueled and confirmed by improper access to the Secret Service database at issue," Homeland Security Inspector General John Roth testified.
The unauthorized access commenced within minutes of Clancy appearing before Chaffetz's committee on March 24 and lasted until April 2, at which point the media ran stories based on leaks. The OIG, suspecting violations of the Privacy Act, referred the discovery to the Department of Justice. However, no charges were filed after all of the suspected Secret Service agents used their 5th Amendment right not to incriminate themselves, leaving insufficient evidence to prosecute.
A March 31 email from Secret Service Assistant Director Edward Lowery, saying "Some information that [Chaffetz] might find embarrassing needs to get out," was discovered by the OIG, but it was also apparently not sufficient for prosecution.
Chaffetz called it "a tactic designed to intimidate and embarrass me" when the news broke.
On Tuesday, Chaffetz and Representative Elijah Cummings (D-Maryland) delivered a letter to the Secret Service demanding an explanation as to why the agency had recently begun asking personnel to sign documents promising not to speak about internal interviews regarding information shared with Congress.
"Secret Service personnel — like all federal employees — have a constitutional right to communicate with Congress under the First Amendment, and it is against the law to deny or interfere with an employee's right to furnish information to Congress," the letter read, urging the Secret Service to allow the OIG to take over their questioning of potential whistleblowers.
The joint congressional hearing comes one day after a court appearance by Lee Robert Moore, a 37-year-old former Secret Service agent, who was caught in a police sting for texting sexual messages to a would-be 14-year-old girl while guarding the White House. Moore faces 10 years in prison.
In March, two Secret Service agents drunkenly drove a government-issued vehicle through a White House barrier and police tape, disrupting an investigation into a suspicious package. In fact, they ran over the item, which could have been a bomb.
Also in March, three drunken agents were pulled off their assignment to protect President Obama during the G7 summit in the Netherlands after one of them was discovered passed out in a hotel hallway.