Stress test: Crack discovered in F-35C wing – Pentagon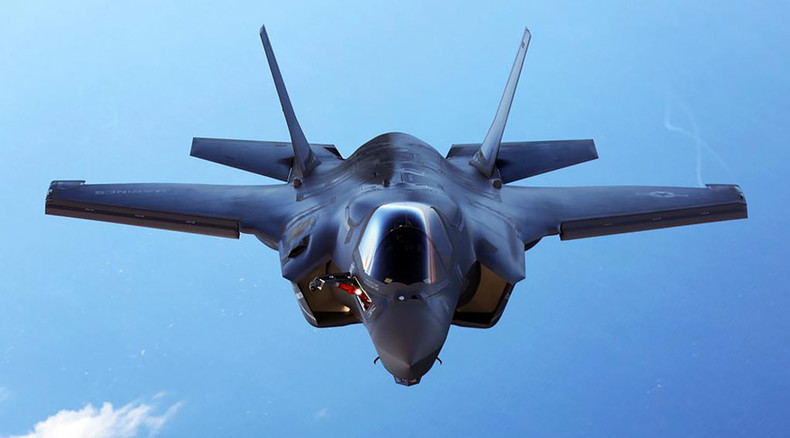 Testers for the Pentagon have discovered a small crack in the wing of a test version of the F-35C fighter jet, which US officials say appeared after it had accumulated 13,700 test hours, or the equivalent of 20 years of service.
Inspectors found the small crack in one of the 13 wing spars of the F-35C carrier plane in late October, according to the Joint Program Office. The spar is the main structural element in the wing and carries flight loads and the weight of the wings while the plane is on the ground.
Defense News reported the test aircraft sustained the damage during durability ground testing, when cyclic loads were added to the airframe to identify problems. Cyclic loading is used to test fatigue failures in structures and involves applying a certain frequency of repetition over and over again to mimic effects. Building structures are often put through the stress of a potential earthquake or the stresses of machinery producing vibrations on a floor.
In the case of aircraft, cyclic loads will mimic deceleration, pressure loads while in altitude, or during constant taxiing when landing.
"The purpose of durability testing is to intentionally stress the aircraft to its structural limit so we can identify any issues and corrective actions needed to fix them," Pentagon spokesman Joe DellaVedova told Defense News on Monday.
IHS Jane's Defense Weekly said the F-35C variant is distinguished by larger wings and more robust landing gear. It is designed for catapult launches and arrestments aboard naval aircraft carriers. Its wingtips also fold to allow for easier storage aboard a carrier.
The Lockheed Martin-made F-35 Lightning II fighter jets are for use on US Navy aircraft carriers. The news won't affect the Navy's ability to meet its planned operating date of August 2018. The discovery has prompted engineering contractors to develop a solution, but the cost of a retrofit is not yet known.
"Initial estimates indicate a modification of approximately a half a pound to the aircraft will fix it," DellaVedova told IHS Jane's. "Modifications to planes flying today will be incorporated to ensure full life operation."
The adjustments made to the cracked test plane will be applied to the rest of the fleet. The damage is not expected to affect current flight operations for any of the variants of the jet currently in service, according to UPI.
All of the F-35s flying today combined have logged fewer than 250 flight hours, according to Pentagon officials.
The F-35 is a fifth generation multirole combat aircraft designed to perform ground attack, aerial reconnaissance, and air defense missions. The program was launched in 2006 but has experienced a number of cost overruns and developmental delays due to concerns over performance and safety.
The project has become the most expensive in Pentagon history, racking up $400 billion and counting.
You can share this story on social media: