US, Turkey launch operation to take entire border with Syria under control – Kerry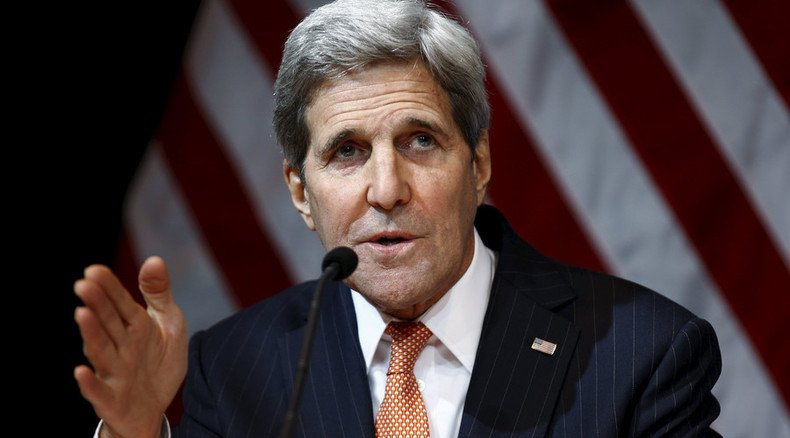 The US and Turkey intend to shut off Turkey's border with Syria in a joint military operation, US Secretary of State John Kerry said.
"The entire border of northern Syria - 75 percent of it has now been shut off. And we are entering an operation with the Turks to shut off the other remaining 98 kilometers," Kerry said in an interview with CNN.
The northern part of Syria along the border with Turkey has long been contested between Kurd militias and fighters of the terrorist group Islamic State (IS). The US previously voiced its intention to train and arm a moderate Syrian force that would take control over the area and defend it from IS, preventing the smuggling of fighters, arms and other goods across the border.
Kerry mentioned the operation with Turkey as he described to CNN the mounting pressure on IS in both Syria and Iraq, but wouldn't elaborate on what it amounted to and whether the US would send ground troops to take part in the operation. US President Barack Obama authorized the deployment of special forces against IS in an apparent deviation from an initial pledge not to have boots on the ground in the campaign.
READ MORE: Turkey to 'act militarily' against ISIS in coming days – foreign minister
Earlier top Turkish officials, including Foreign Minister Feridun Sinirlioğlu, mentioned Ankara may launch a new military operation against IS in a matter of days, although Deputy Prime Minister Numan Kurtulmuş said no ground operation was planned.
Turkey has already declared a bombing campaign against IS, though it was reported to have been targeting the positions of Kurdish militias that are fighting IS and are allied with Turkish Kurds against the Turkish government.
Ankara is also allowing the US to use its airbase to conduct sorties into Syrian airspace.
READ MORE: Turkish plans to attack Islamic State excuse for hitting Kurds
'US, Russian information exchange linked to political process'
Speaking to reporters after meeting Hollande and French Foreign Minister Lauren Fabius, Kerry said that increased coordination with Russia in the fight against ISIS would require progress in the political process to end the Syrian war.
The US secretary of state said that agreements reached last week at Vienna peace talks on Syria meant the country could be "weeks away, conceivably, of a big transition."
Referring to independently conducted US and Russia airstrikes in Syria, Kerry said: "At the moment, it's matter of making certain we are hitting the right targets and we are not running any risk of conflict among ourselves. But it's possible that if the political process moves more rapidly, there could be greater level of exchange of information and so forth."
"Iran, Russia ready for a ceasefire, the United States ready for ceasefire," he added, as quoted by Reuters. "But there needs to be legitimacy to this process. So the faster Russia and Iran give life to this process, the faster the violence can taper down and we can isolate Daesh (Islamic State) and al Nusra and begin to do what our strategy has always set out to do."
He told CNN that this "gives us an opportunity to perhaps get a ceasefire in place within the next three, four, five weeks. And then be able to, with the political process, work with other parties to again squeeze harder on Daesh."
You can share this story on social media: