'Terrible idea': LAPD union blasts medal rewarding officers for not using deadly force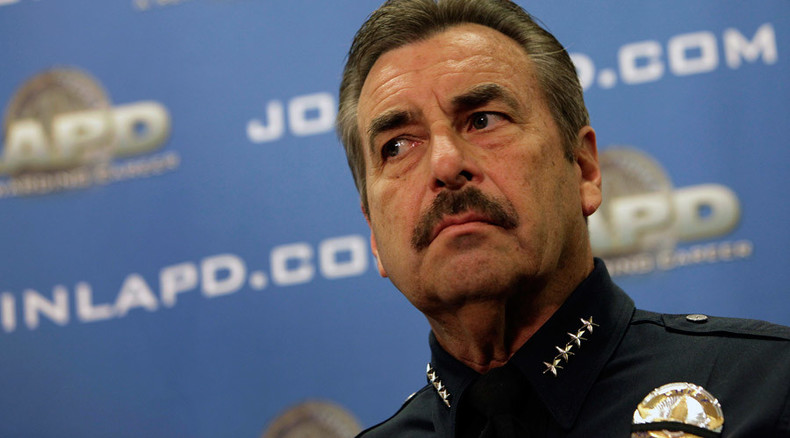 A new Preservation of Life award for Los Angeles police "will put officers in even more danger," according to a local police union. The controversy comes as a newly released report shows that the number of LA police shootings has doubled this year.
Charlie Beck, police chief of the LAPD, didn't mean to upset anyone with his idea – certainly not the public employee unions representing potential recipients of the medal. He introduced the new award at a police commission meeting, saying it would pay tribute to law enforcement officers who "display commendable restraint in a deadly force situation" and be among LAPD's most prestigious honors next to the medal of valor.
The Los Angeles Police Protective League, however, was quite upset.
In a blog posted on Thursday, the LA Police Protective League announced the unanimous decision of its nine-member board, which denounced the Preservation of Life medal as "a terrible idea that will put officers in even more danger."
"What we don't want to see is a flag-draped coffin and the chief speaking at an officer's funeral stating, 'This brave officer will be awarded the Preservation of Life medal,'" the blog stated.
The medal "suggests that officers must go above and beyond their normal activities to avoid harm," the blog reads.
"There might be a hesitation there. A lot of these shootings and situations that officers are put in happen within a millisecond and it's over with ... If they hesitate, they're dead," Union President Craig Lally said in an Associated Press interview.
Beck brought the idea to the police commission in a meeting last week, saying that although it is charged with reviewing deadly police shootings, it should also be aware of officers who don't resort to deadly force. Beck brought up a recent incident when Metro officers gained control of a man with a sawed-off shotgun without returning fire even after the weapon had been discharged, as an example of the kind of police valor the medal would be intended to reward.
"It could have easily been an incident where deadly force was deployed but it was not," Beck said.
The same day Beck met with the police commission and two days before the police union blasted the Preservation of Life prize, KPCC radio released a report on local police shootings.
So far in 2015, there have been 45 officer-involved shootings in LA, according to the KPCC report. That's twice as many as there were in the same period in 2014. The report also found that 19 people have been killed by police fire so far this year, already surpassing the 2014 total of 18, but down from 26 in 2011. Since 2011, about 25 percent of officer-involved shootings have been against unarmed people. The last LAPD shooting to result in a conviction was in September 2000, according to the report.