West should work with Russia against ISIS ‒ Kissinger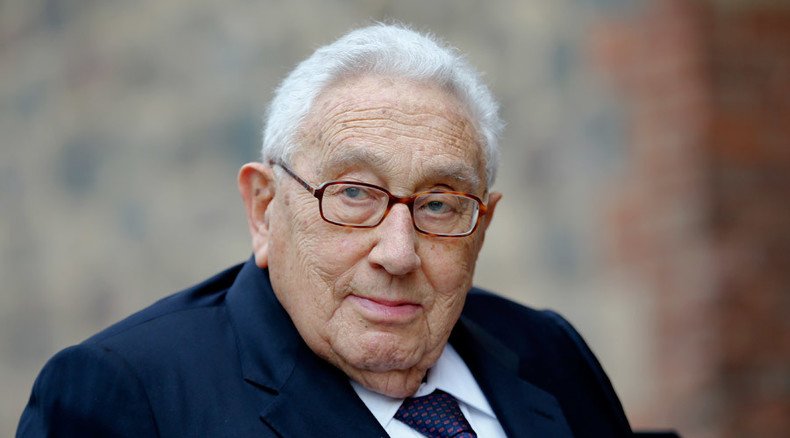 Europe and the US should work with Russia to defeat ISIS, since it's in everyone's common interest to stop radical Islamist movements before they become an existential threat, former US Secretary of State Henry Kissinger said.
After allowing the US to dominate the Middle East for over 30 years, Russia became involved in the region because the rise of radical Islamist movements has threatened its domestic stability, the senior statesman told the audience at the annual Global Security Forum hosted by the Center for Strategic and International Studies (CSIS) in Washington, DC on Monday.
"Russia is trying to prevent the emergence and consolidation of this kind of radical Islamist [threat], and in that respect their objectives, developed on their own, are really parallel with ours," Kissinger said. "So I see a possibility – in fact, a likelihood – that we could come to an understanding with Russia."
Kissinger's appearance at the event had been arranged months in advance. Originally intended to be a discussion of the Iran nuclear deal in the context of events in the Middle East, his talk mostly dealt with the challenges for the US and Europe in developing strategy to deal with Islamic State (IS, formerly ISIS or ISIL) in the wake of Friday's terrorist attacks in Paris.
After warning the audience that his remarks would be mostly improvised, the elderly sage of realpolitik said that while the events in Paris resemble terrorist attacks that have been occurring in New York, London and Madrid since 2001, their extraordinary brutality makes them stand out.
What makes Islamic State so dangerous, Kissinger explained, is that it ignores national borders and asserts universal claims as a means of overthrowing the entire international order. The methods it uses "in their shocking brutality, are supposed to demonstrate the irrelevance of the existing system," he added.
Europe will now need to decide what it stands for and whether it wants to participate "as an active member of the Western community" in dealing with what Kissinger described as a "fundamental challenge" to Western values and even existence "in the form of the jihad."
Other participants at the CSIS security forum likewise endorsed cooperation with Russia against Islamist militants. Retired Ambassador Thomas Pickering called intelligence collaboration "of mutual benefit," while CIA Director John Brennan praised contacts between the US and Russian intelligence communities in the run-up to the 2014 Winter Olympics in Sochi.
"I want to continue to do that, irrespective of disagreements of policies over Syria," Brennan told the forum.
Kissinger served as chief diplomat under Presidents Richard Nixon and Gerald Ford and later as National Security Advisor during the 1970s. Now 92, he is credited with developing the policy of détente with the Soviet Union and China, and negotiating the US withdrawal from Vietnam.
The current crisis in the Middle East is a combination of three different conflicts, Kissinger told the audience at CSIS. What started out as tensions between subjects and their rulers has turned into ethnic and sectarian warfare, he explained. With the resulting civil wars crossing boundaries drawn after World War I, non-state groups such as ISIS and Al-Qaeda have stepped up their presence, asserting a challenge to the international order.
One solution may be to adjust borders in the Middle East, but "to do that peacefully is a huge challenge," Kissinger warned. The world powers, along with regional leaders, could perhaps agree on a system of "reconstructing the states that have some viability," he speculated.
What Western policymakers need to do now is agree on the nature of the problem and figure out how to solve it, Kissinger argued, "instead of repeating the slogans that got us in this position."
You can share this story on social media: