Attack 'on all of humanity': US reactions to Paris carnage, from politics to prayers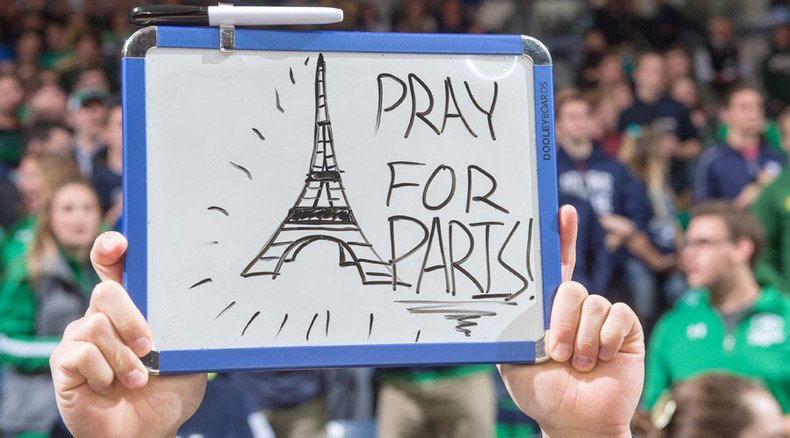 The terrorist attacks in Paris on Friday roused an array of reactions across American political, religious and cultural lines. Prayers and security concerns made up the bulk, while a smattering of more pointed comments were made as well.
As Paris police report that eight attackers are now dead, they also say they are on the lookout for possible accomplices. Updates throughout the night inevitably led to more questions, but official reactions to the senseless bombings and shootings that resulted in some 150 being people killed in and near Paris, provide a glimpse into what is being done.
The US Embassy in Paris has yet to report on whether Americans were killed in the massacre.
"Once again, we've seen an outrageous attempt to terrorize innocent civilians," President Barack Obama said. "This is an attack not just on Paris, it's an attack not just on the people of France, but this is an attack on all of humanity and the universal values that we share."
"We stand prepared and ready to provide whatever assistance that the government and the people of France need to respond. France is our oldest ally."
Secretary of State John Kerry is in Vienna, Austria negotiating with international parties about the Syrian conflict, but he did make a statement:
"These are heinous, evil, vile acts. Those of us who can, must do everything in our power to fight back against what can only be considered an assault on our common humanity," Kerry said.
In the US, the Department of Homeland Security has identified no specific or credible threats. However, both Los Angeles and New York City police departments are on a higher alert status.
Almost immediately, anti-Muslim sentiments were expressed on the internet, condemning an entire religion or people for the attacks.
"These savage and despicable attacks on civilians, whether they occur in Paris, Beirut or any other city, are outrageous and without justification. We condemn these horrific crimes in the strongest terms possible," the Council on American–Islamic Relations, an advocacy organization, which defends Muslims from discrimination and stereotypes, said.
On the campaign trail, Republican and Democratic candidates' reactions outlined how they would respond as president, if elected.
"This is a war being created by Islamic terrorists," former Florida Governor Jeb Bush said on a conservative radio talk show. "This is an organized effort to destroy Western civilization. And we need to lead in this regard...This is the war of our time."
Retired neurosurgeon Ben Carson told CNN, "We must redouble our efforts and our resolve to resist them, not only to contain them, but to eliminate that kind of hatred in the world," while adding that Syrian or Iraqi refugees should be denied entry to the US.
"To bring them here when we have tens of millions of people who are suffering economically doesn't make any economic sense," Carson said.
Donald Trump, Florida Senator Marco Rubio, Kentucky Senator Rand Paul, and South Carolina Senator Lindsey Graham all took to Twitter. Trump kept his comments reserved to prayer, tweeting, "May God be with you all."
Paul shared his prayers and added, "America must stand united with France as they face this truly horrific act of terrorism."
Marco Rubio tweeted consecutively, saying, "We cannot let those who seek to disrupt our way of life succeed. We must increase our efforts at home and abroad to improve our defenses, destroy terrorist networks, and deprive them of the space from which to operate."
Lindsey Graham tweeted, "There's a sickness in the world that has to be dealt with & we must come together to confront it. America should lead that unity."
Former Secretary of State Hillary Clinton called the events "harrowing":
Vermont Senator Bernie Sanders said he was "horrified" and offered his thoughts:
Outside of politics, the Empire State building in New York beamed the colors and pattern of the French flag, as did the Wembley arc in London:
Also in New York, the One World Trade Center tower stood in solidarity:
Less touching remarks from a terrorism expert on CNN were relayed by the Creative Director for the Independent Journal:
Actor Rob Lowe took a shot at France's immigration policy:
And comedian Patton Oswalt just wanted everyone to read the news and sleep on it:
You can share this story on social media: