Ohio ISIS supporter arrested for reblogging GIF images on social media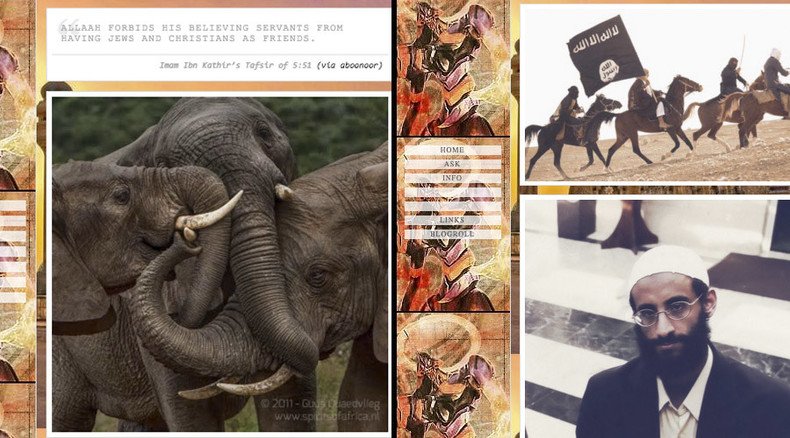 Federal authorities arrested an Akron, Ohio man for allegedly posting messages supporting Islamic State on social media. Among them is a looping image showing US military personnel, a handgun and the caption, "kill them wherever you find them."
With no prior criminal history, Terrence McNeil, 25, was charged by the Justice Department on Thursday with one count of solicitation of a crime of violence. The arrest comes a day after the US celebrated Veterans Day.
"Terrence McNeil solicited the murder of members of the our military by disseminating ISIL's violent rhetoric, circulating detailed US military personnel information, and explicitly calling for the killing of American service members in their homes and communities," said Assistant Attorney General John Carlin in a statement.
While McNeil's crime appears to simply have been reblogging the GIF, his case is almost entirely based on his online activity. In its complaint, the government charged him for "threatening physical violence" to "induce" other persons to "engage in such conduct" against "United States Serviceman."
According to an affidavit filed, McNeil professed his support on social media for Islamic State (IS, formerly ISIS/ISIL), designated by the US government as a foreign terrorist organization, on June 12, 2015. Federal agents subsequently began watching McNeil's social media activity across several Twitter accounts, and started tracking his posts on Tumblr and Facebook.
A federal agent requested subscriber information from Twitter on August 25, and from internet providers Time Warner and Verizon, to acquire phone numbers, IP addresses and a home address. Later, the FBI put McNeil under direct surveillance, noting when he left his home and where he went.
In one post on Tumblr, he wrote "Happy 9/11!!!!" McNeil also posted photos of a strawberry dessert, as well as a photo of a cake with Osama Bin Laden's image on it featuring candles that wrote out "9/11." Those posts were intermingled with images of elephants, cats and baby sloths.
In a post on Faceboook, McNeil posted under the account name "Terrance Joseph Broadway." On May 11, 2014, he wrote, "I can't wait for another 9/11, Boston bombing, or Sandy Hook!!"
On May 12, 2014, McNeil posted a response to a user's reply to his comment: "I'm American by birth not choice. Easily I'm african American and native American so this county has made my people suffer years. Casualty of war. I would gladly take part in an attack on this murderous regime and the people [sic]."
In multiple entries on social media such as Tumblr and Facebook, McNeil is documented in the affidavit showing his support for criminal acts.
"On or about July 16, 2015, using Tumblr account 'Abu-fil' McNeil posted, 'I just heard the new Allahu Akbar!!!! May Allah (SWT) accept our brother Muhammed Youssef Abdulazeez,'" it read.
That was same day that Abdulazeez opened fire on two military installations in Tennessee. Four Marines and one Navy sailor were killed. Abdulazeez was killed by the authorities.
McNeil was ultimately charged when he reposted a GIF from another Tumblr account onto an account he allegedly ran. The GIF, under the banner "Islamic State Hacking Division," reportedly loops through "several dozen photographs, purportedly of US military personnel, along with their respective name, address and military branch," according to a Justice Department press release.
"Kill them in their own lands, behead them in their own homes, stab them to death as they walk their streets thinking that they are safe," the GIF reportedly stated.
The looping GIF also shows images of US military members, a handgun and the words, "kill them wherever you find them."
McNeil allegedly reblogged the GIF on September 24.
In a statement, an FBI agent said McNeil's decision to reblog the GIF went beyond speech that is protected by the First Amendment.
"While we aggressively defend First Amendment rights, the individual arrested went far beyond free speech by reposting names and addresses of 100 US service members, all with the intent to have them killed," Special Agent Stephen Anthony, from the FBI's Cleveland Division, said in a statement.
McNeil was remanded into custody of the US Marshals and has another hearing set for next week.
You can share this story on social media: