Students across America protest debt in Million Student March
Published time: 12 Nov, 2015 19:06
Edited time: 13 Nov, 2015 02:30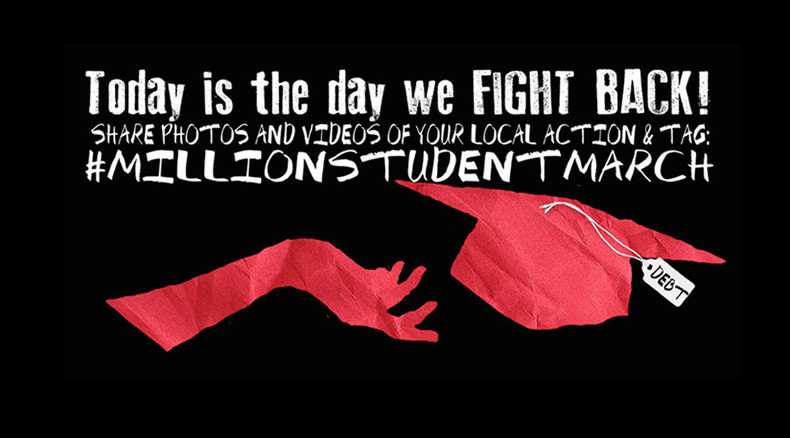 Over one hundred campuses across the United States are participating in a march against student debt and for free public college.
13 November 2015

01:38 GMT

Protesters at the University of Washington block a traffic intersection.

00:10 GMT

Students marching through New York City.

12 November 2015

23:42 GMT

At Loyola University in Chicago, students stood in solidarity with Mizzou.

23:31 GMT

Demonstrators in Philadelphia say they support students in Missouri.

22:31 GMT

In New York, union-member faculty came out to support students at Brooklyn College.

22:31 GMT

At Texas State University, students insisted that they wanted a response from faculty and their administration regarding their demands.

"We want tuition free institutions, a cancellation of the 1.2 trillion dollars that 40 million students hold as far as student debt goes, and we want $15 wages for student workers," Texas State University March organizer and President of Socialist Alternative Rudy Martinez told KTSW.

22:24 GMT

The National Nurses United union is also at UC Berkeley to demonstrate against student debt.

22:23 GMT

The scene at the University of California, Berkeley.

21:03 GMT

The Cornell University chapter of Black Students United called for the cancellation of a campus protest that is meant to show solidarity with the protests at the University of Missouri, citing the lack of "people of color" involved.

"In the future, please ask how you can support us before organizing on your own. With that in mind, we would appreciate the cancellation of this event," the groups Facebook post reads.