'She wouldn't stop crying': 8-year-old charged with beating toddler girl to death in Alabama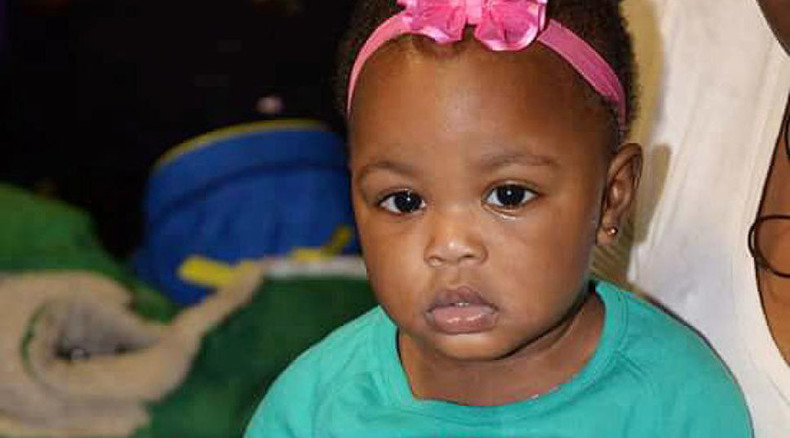 An eight-year-old boy in Birmingham, Alabama has been charged with murder after beating a one-year-old girl to death, as she wouldn't stop crying. The victim's mother left her daughter in the care of a group of children as she partied at a nightclub.
The tragic incident occurred in mid-October as Kelci Devine Lewis, who turned one in May, was found unresponsive in her crib.
The toddler's death was caused by a blunt force trauma to the head and internal injuries, local police said.
The authorities say they will not release the name of the eight-year-old boy who was responsible for the crime. He is currently in the care of Alabama's child welfare agency.
"It is believed that while the mother and friend were at the club, the eight-year-old viciously attacked the one-year-old because the one-year-old would not stop crying,'' Lt. Sean Edwards, a Birmingham police spokesman said, according to Birmingham News.
Katerra Lewis, who is 26 and her only child, Kelci, were staying at a friend's house as they were waiting for a Section 8 house of their own.
That night the mother went to a nightclub with her friend, leaving her daughter with five other children, aged two, four, six, seven and eight.
Katerra Lewis was charged with manslaughter. She turned herself in and was later released on bail after posting $15,000.
The mother later shared her grief over the loss of child on Facebook, writing: "I keep asking can dey [they] bring u back and take me instead."
"This is one of the most heartbreaking investigations that I have seen in over 30 years of my law enforcement career,'' said Birmingham Police chief A.C. Roper.
"We've been concerned about the kids and the future effect on their lives. The bottom line is an innocent young baby lost her life and that should be a wake-up call for our community," he added.
READ MORE: Woman convicted of watching kids drown awaits decision on custody of her post-prison children
However, Kelci's grandmother, Waynetta Callens, questioned the version of the events coming from the police.
She told AL.com that the children weren't left alone and that there was another adult in the home on the night of the murder.
"Katerra is not the type of parent that they are trying to portray her as,'' Callens said.
"We all will have our day in court. Never judge a book by its cover, which means don't try to judge from the outside," she added.
There is no minimum age for prosecution in Alabama, Tobie Smith of the Legal Aid Society of Birmingham told AP.
The eight-year-old responsible for Kelci's death isn't the youngest child accused of murder in US history.
In 1929, six-year-old, Carl Newton, Mahan killed his eight-year-old friend over a piece of scrap iron in eastern Kentucky.
An unnamed nine-year-old girl stabbed 11-year-old Queen Washington during a fight over a ball in Brooklyn in 2005.
In 2008, an eight-year-old boy, whose name was also not released, was charged with shooting dead his father and another man in Arizona.