'Don't detain Gitmo prisoners indefinitely' – OSCE tells US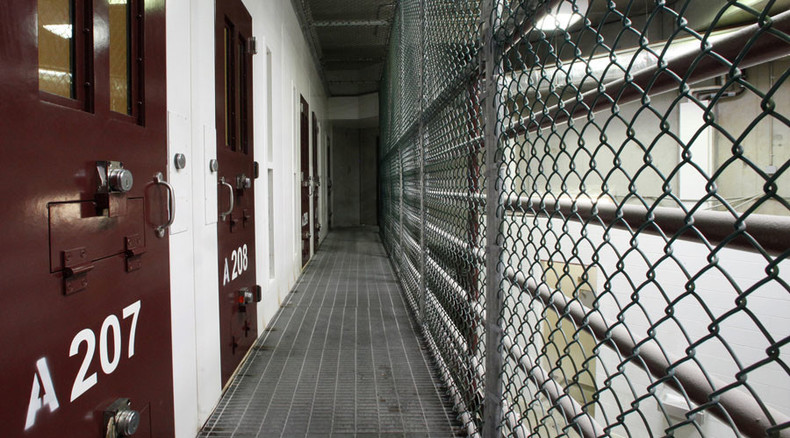 While the Department of Defense is expected to release a plan to close the Guantanamo Bay this week, an intergovernmental human rights organization hopes to prevent further "indefinite detention" with the release of a new report.
The Office for Democratic Institutions and Human Rights (ODIHR), an arm of the 57-member-state Organization for Security and Co-operation in Europe (OSCE), published a paper on Tuesday outlining human rights violations at the notorious detention facility at Guantanamo Bay, also known as Gitmo.
Titled, "The Human Rights Situation of Detainees at Guantanamo," the 280-page report calls on the US government to not only close Gitmo, but also to set free any detainees the government is unable to prosecute due to a lack of evidence.
Additionally, the findings challenge the US to investigate prior incidents of torture at Guantanamo under the program that utilized so-called enhanced interrogation techniques.
"As Director of ODIHR, I strongly welcome United States President Barack Obama administration's intention to develop a concrete plan to close down the detention facility at Guantanamo Bay," Michael Georg Link, Director of ODIHR, stated on the OSCE website.
"No person should be subject to indefinite detention without trial. As one of the oldest democracies in the OSCE, the United States of America should lead by example, by making it crystal clear that everyone has the right to a fair trial. The detainees should either be charged or released."
The fate of Guantanamo remains in a limbo, as President Obama has pledged to close the facility while Congress has consistently put up obstacles on detainee transfers. The most recent defense authorization bill passed by the Senate bars prisoners from being sent to the US, leaving Obama with limited options. He could try to close it unilaterally via an executive order, a move that would likely involve the courts, or he could try to negotiate a plan that could pass Congress.
READ MORE: Senate passes defense bill that halts Gitmo closure, gives military aid to Kiev & Syrian rebels
Of the 112 current Guantanamo detainees, 53 are cleared for release. Of those 53, more than half have had that clearance since at least 2010. However, because the prisoners' home countries are often a greater threat to the prisoner, the US must find third party countries to take them in. The US refuses to release any detainees within its borders, although South Carolina, Colorado and Kansas all have sites the Department of Defense has studied for transfer of detainees.
Of the 59 detainees not cleared for release, 28 cannot be prosecuted because there is no evidence, but the US classifies them as too dangerous to release. Only 10 of the detainees have been charged with a crime.
"Certainly one thing we do regret is having been unable to visit the Guantanamo detention facility and interview in private detainees held there. This is standard practice whenever carrying out human rights monitoring of detention facilities, but we were not able to do this," Omer Fisher, Deputy Director of OHDIR, said at a press conference.
"We didn't really get a detailed explanation as to the reasons that was not possible. We did try to send, through their lawyers, written questions to current Guantanamo detainees. We only received replies from one of them, and these replies were, in fact, entirely redacted by the authorities."
Fisher also suggested OSCE member states welcoming Guantanamo detainees "may be the only solution" to relocating them upon release.
Without direct access to those being held, the OHDIR report has only enough evidence to call for further investigations so that accountability can be achieved.
"US high officials, including the president, have acknowledged the use of torture in the Guantanamo context. Yet, impunity continues for human rights violations committed in the CIA rendition program and in the detention and treatment of detainees at Guantanamo. Investigations have been conducted by US authorities, however, our report highlights that this investigation into abuses at Guantanamo were not impartial and effective," Lucile Sengler, OHDIR adviser on anti-terrorism issues, said at the press conference.
"No US official has ever been prosecuted for their involvement in the program," Sengler added.