'Simply incredible:' NASA shows off major discoveries from historic Pluto flyby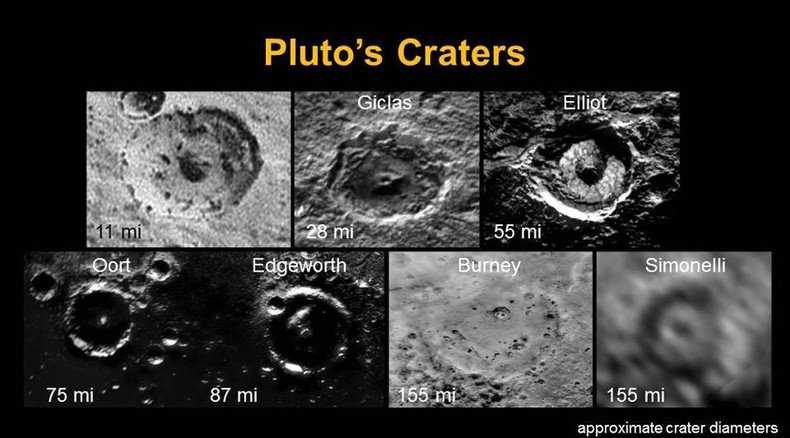 Pluto has unveiled more of its secrets to NASA, enabling scientists to make over 50 sensational discoveries, from icy volcanoes to the tiny planet's spinning moons.
NASA's New Horizons spacecraft breezed past Pluto in mid-July. It was the first-ever close-up encounter with the dwarf planet full of secrets.
"The New Horizons mission has taken what we thought we knew about Pluto and turned it upside down," said Jim Green, director of planetary science at NASA Headquarters in Washington.
The discovery of possible icy volcanoes on Pluto is one of the most surprising findings the scientists made. NASA had already mentioned the dwarf planet's 3,500 meter icy peaks back in July, but now they've now had a chance to look at them more closely.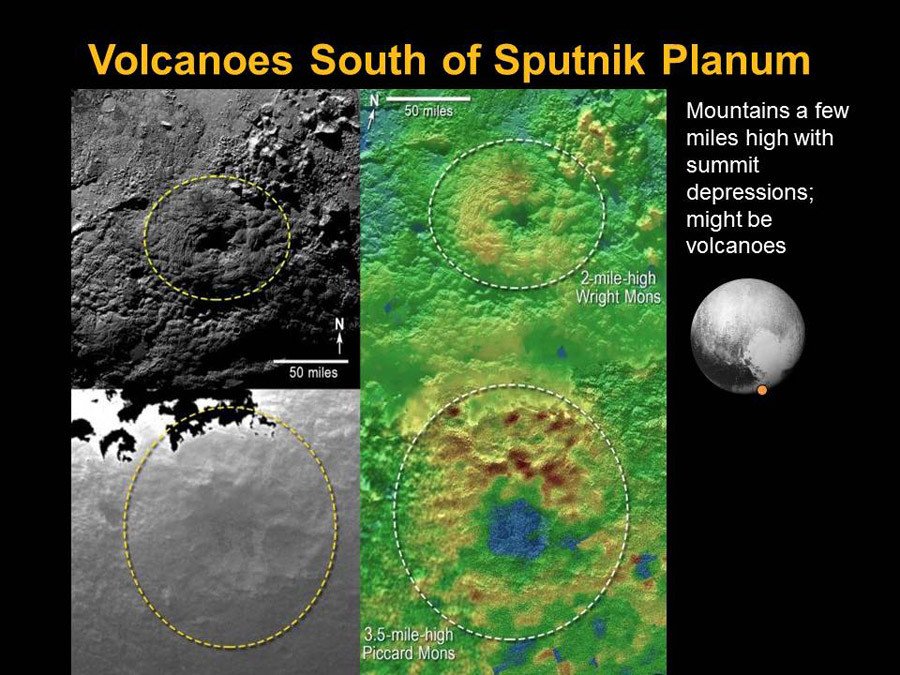 "These are big mountains with a large hole in their summit, and on Earth that generally means one thing – a volcano," Oliver White, New Horizons postdoctoral researcher at NASA's Ames Research Center in Moffett Field, California, said.
Unlike volcanoes on Earth, scientists expect that Pluto's volcanoes spew a somewhat melted combination of icy materials, such as nitrogen, ammonia, or methane, rather than hot magma and rocks. Learning more about volcanoes on Pluto would allow NASA to gain a deeper understanding of the tiny globe's geologic and atmospheric evolution.
"After all, nothing like this has been seen in the deep outer solar system," said Jeffrey Moore, New Horizons Geology, Geophysics and Imaging team leader.
Scientists have also learned that Pluto's surface developed in at least three stages, varying in age from ancient and intermediate, to relatively young. Pluto's surface shows that it could be over 4 billion years old. NASA researchers determined this by counting crater impacts: The more crater impacts, the older a region is likely to be.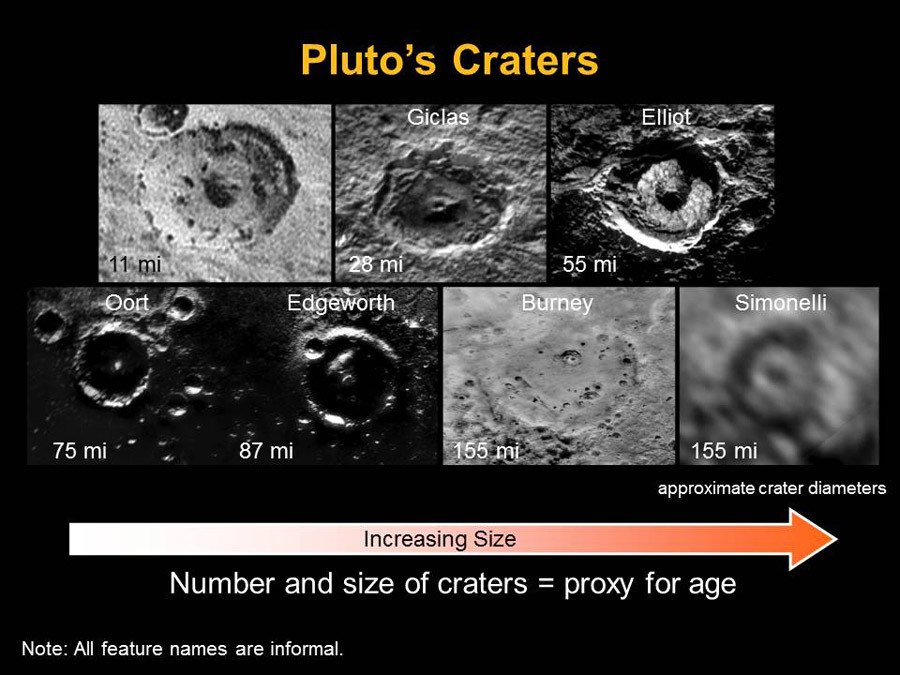 "We've mapped more than a thousand craters on Pluto, which vary greatly in size and appearance," said postdoctoral researcher Kelsi Singer of the Southwest Research Institute (SwRI) in Boulder, Colorado. "Among other things, I expect cratering studies like these to give us important new insights into how this part of the solar system formed."
However, there are regions where no craters have been found, meaning that they may be quite "young" in geological terms. One such area has been dubbed Sputnik Planum, which may have formed within the past 10 million years.
The New Horizons mission has also studied the fascinating rotational system of Pluto's moons. Unlike Earth's moon, Pluto's small moons do not rotate synchronously with their host planet. They spin faster, rotating 89 times during a single lap around the planet.


NASA also thinks that some of Pluto's moons may have merged to create some of its satellites.
"We suspect from this that Pluto had more moons in the past, in the aftermath of the big impact that also created Charon [one of the Pluto's known moons]," said co-investigator Mark Showalter of the SETI Institute in Mountain View, California.
In the more than four months since the flyby, the pictures that NASA has taken have helped scientists make over 50 discoveries, with more still to come.
"It's hard to imagine how rapidly our view of Pluto and its moons are evolving as new data stream in each week," mission Principal Investigator Alan Stern of the Southwest Research Institute in Boulder, Colorado, said. "Moreover, I'd wager that for most planetary scientists, any one or two of our latest major findings on one world would be considered astounding. To have them all is simply incredible."
You can share this story on social media: