Chelsea Manning 'humiliated' by Army haircut, to appeal espionage conviction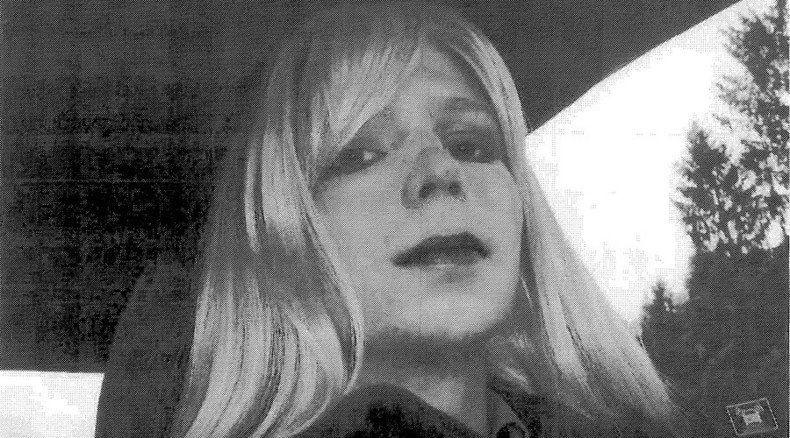 After her 2013 conviction, Chelsea Manning acknowledged, "sometimes you have to pay a heavy price to live in a free society," but even as she appeals her 35-year sentence, Manning struggles to carry on if her hair isn't allowed to grow.
Manning was born Bradley Manning, a male, but came out as a transgender woman after she was convicted for leaking classified documents to WikiLeaks. Though she receives tax-funded hormone replacement therapy, she is still technically under the Uniform Code of Military Justice, requiring her hair be kept no longer than two inches, the haircut of all male prisoners.
On September 18, the military made this policy clear to Manning, and she did not take it well.
"I felt sick. I felt sad. I felt gross — like Frankenstein's monster wandering around the countryside avoiding angry mobs with torches and pitch forks," Manning wrote in a blog on Medium.
Manning describes crying for hours, losing hope in herself to care about her friends, family, fans, as well as her writing. Before giving up, Manning confided in her lawyer, Chase Strangio of the American Civil Liberties Union.
"Even though the military agrees that allowing Chelsea to grow her hair is a critical part of her treatment plan, they continue to deny her basic human and constitutional rights," Strangio, an attorney for the ACLU's Lesbian, Gay, Bisexual and Transgender Project, said in a September 18 statement on the ACLU website.
"Plaintiff feels like a freak and a weirdo," Manning's lawyers recently complained to court, according to Yahoo News, "not because having short hair makes a person less of a woman — but because for her, it undermines specifically recommended treatment and sends the message to everyone that she is not a 'real' woman."
In a separate incident earlier this summer, guards at the US Disciplinary Barracks at Fort Leavenworth, Kansas found prohibited items in Manning's cell. Among the items were the Senate intelligence committee's report on the CIA torture program, a tube of expired toothpaste, the Caitlyn Jenner-covered issue of Vanity Fair, and other magazines. These violations led to restrictions on outdoor and library activity times for the 27-year-old Army private.
An appeal to the August 2013 conviction is in the works and is expected to be filed in early 2016. It will make the case that Manning exposed US government abuses while her initial trial banned any testimony regarding her motives as a whistleblower.
Last month, Chelsea Manning sent a letter to lawmakers asking them to introduce and pass the Foreign Intelligence Surveillance Reform Act (FISRA) of 2015, a 139-page bill Manning wrote to abolish the secretive FISA courts which sign off on government requests to search records without a traditional, individualized warrant.
"The USA Freedom Act, for all that it's trumpeted as the solution to some of the excessed, does little to institute real oversight over the Fisa courts," Manning wrote in defense of her legislation, in a column published by The Guardian on November 3.
Manning also remains active among the internet freedom movement, submitting a statement for Aaron Swartz Day, an event to remember the "hacktivist" computer programmer who committed suicide after being indicted for data theft.
"We are in a constant technological arms race, and I think that it's important to realize that we are always only a single breakthrough away from making the methods of network obfuscation and encryption pointless or unusable," read Manning's statement, recited at the Internet Archive in San Francisco on November 7.
Beginning in 2010, Manning handed over nearly 750,000 classified military documents, the largest leak ever of its kind, to WikiLeaks. The Iraq War Log and Afghan War Diary, as they came to be called, were released as an act of whistleblowing, Manning says.
You can share this story on social media: