Pentagon plan to close Gitmo coming 'very soon'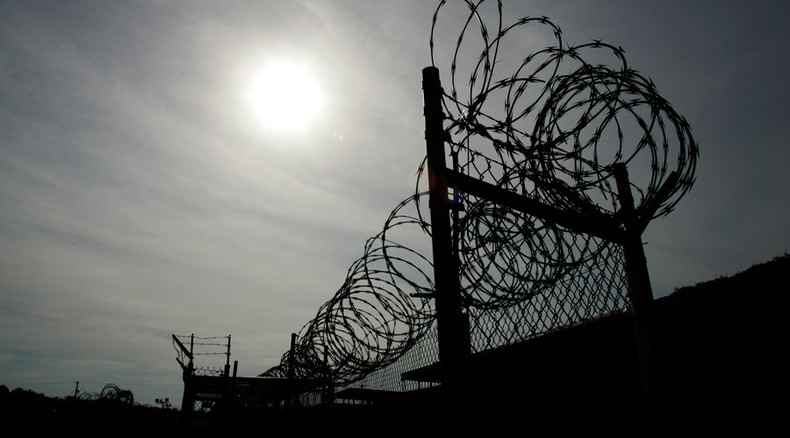 The Pentagon is expected this week to release a plan detailing how to close the Guantanamo Bay detention center. Despite President Barack Obama's campaign promise to close the controversial facility, 112 prisoners are still held there.
"We have a plan that helps achieve the president's goal of closing Guantanamo and we are forwarding that plan to Congress very soon," Pentagon spokesman Captain Davis said, according to Agence France-Presse. "Clearly the Congress's help is needed in doing this."
A small team of Pentagon officials has been researching where to house the remaining prisoners held at the military facility, as well as the costs of doing so, in response to a Congressional request.
The plan would reportedly include transferring nearly 50 detainees to US prisons, for indefinite detention without a trial. Another group of 10 detainees will be prosecuted by military commissions, while 53 others, deemed less dangerous, would be transferred abroad, according to Reuters.
President Obama made the closing of the Guantanamo camp a presidential campaign promise, and he has referred to the facility as "a sad chapter in American history." It is a promise that he has struggled to achieve during his administration, despite drafting an executive order calling for its closure and repeatedly calling the prison too expansive and saying its presence served as a recruiting tool for US enemies.
The detention camp was established in 2002, shortly after the 9/11 World Trade Center terror attack. It once housed 779 extra-legal detainees. By now, 657 have been released or transferred, 125 of them under the Obama administration.
Two years ago, Senator Dick Durbin (D-Illinois) calculated that the cost of housing a detainee at Guantanamo for a year was $2.7 million per inmate. Inside a US federal prison, the cost would drop to $72,000 a year per inmate.
Transferring Guantanamo detainees to US prisons is currently barred, however. A 2011 congressional law prohibited the administration from spending money to move detainees to the US.
"[The plan] will address the issue of legislation change that's needed to proceed further," Pentagon spokesman Capt. Jeff Davis told reporters.
Four sites are under consideration for detainee transfers: the US Disciplinary Barracks at Fort Leavenworth military base in Kansas; a federal prison in Florence and a state penitentiary in Canon City, both in Colorado; and a military brig in Charleston, South Carolina.
Republicans are fiercely opposed to Obama's plan to close Guantanamo. Conservative senators from the states that are being considered for transfers are concerned that the arrival of detainees would present a threat to their communities and have promised to fight such a plan in Congress, according to Agence France-Presse.
Senator Tim Scott (R-South Carolina) told AFP the plan to bring enemy combatants from an isolated location to domestic soil is "mind-boggling," and accused Obama of "gambling national security to keep a campaign promise."
Scott noted that the Charleston brig was two or three minutes from several schools and a dozen churches, not an ideal location to house what he described as "the world's worst terrorists." Senator Cory Gardner (R-Colorado) said both sites in Colorado were about an hour from several military facilities, including the headquarters of the US Northern Command.
Senator Pat Roberts (R-Kansas) said that while it was highly unlikely that extremists would attack Guantanamo to highlight the plight of inmates there, that likelihood would increase if the detainees were transferred to the continental US.
"They shouldn't be in the United States. We should keep them in Gitmo," Roberts said.
To shore up their opposition, House Republicans passed a defense bill last week that included a measure that would bar Obama from closing Guantanamo before he leaves office in 2017. The Senate is expected the pass the same measure as soon as Tuesday.
LISTEN MORE: