LA officials warn of 'Godzilla' El Nino - and gruesome finds in Hollywood Hills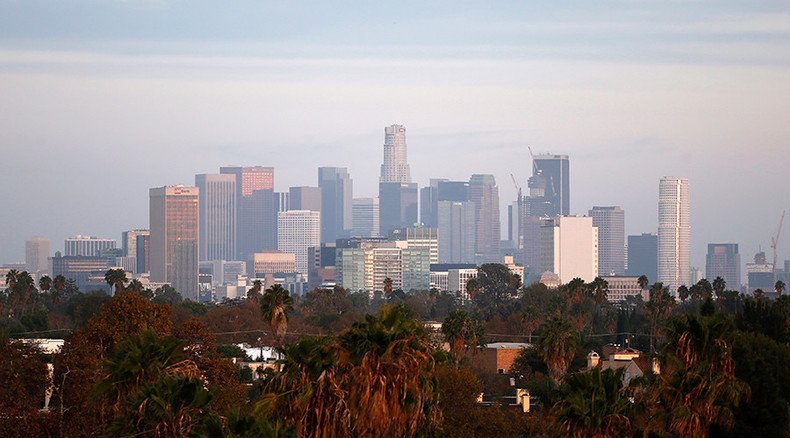 Citizens of Los Angeles are being told to prepare for an El Nino of 'Godzilla' proportions. The weather pattern is expected to bring harsh storms to an area that has been decimated by drought for the last few years.
Given the arid weather that has affected southern California an increase in rainfall would have be logically welcomed. However, meteorologists say the consequences of El Nino won't lead to a few extra showers, but rather brutal storms.
Given that the ground is bone dry following four years of drought, it will be difficult for the water to precipitate into the ground, leading to floods and mudslides.
These fears have led to Mayor Eric Garcetti to create an El Nino Task Force, which will unite Los Angeles' 13 departments to try and prepare for the imminent threat.
"The city must be ready for the immediate effects and the subsequent aftermath that come with heavy rainfall," Garcetti said at a Friday news conference, as cited by the LA Times. "The actions we take to prepare for any and all of these impacts have the potential to directly affect our livelihoods and indeed ensure the survival of our city."
Amongst the measures that have been agreed, cellphone providers AT&T, Sprint, T-Mobile and Verizon say they will share network capabilities in the event of a disaster striking the city. Meanwhile, steps are also being made to provide emergency shelter and food if the city was to run out of food.
"If you're prepared for the big earthquake, you have the fundamentals to be prepared for El Niño," said Jim Featherstone, general manager of the Emergency Management Department.
Los Angeles county officials also say that the consequences of El Nino could have another unwanted side effect.
They say that the heavy rains, which are predicted over the winter months, could lead to buried human remains being uncovered and washed down the mountains.
Hunters and hikers in the Angeles National Forest have already managed to come across a spine, a pelvic bone, a femur and a hand over the Halloween weekend, the Los Angeles Times reported.
These were not the remnants of any fancy dress costumes, but were the real thing.
The forest has often been used by criminals wanting to get rid of a body quickly and quietly. It is popular given its proximity to Los Angeles. In September, a hiker came across a dead body, while in 2012; dog walkers came across a man's head, two hands, and two feet in the Hollywood Hills.
"It is close to the Los Angeles metropolitan area, which gives access to somebody who needs to get rid of remains," Gerry Biehn, a detective at the Los Angeles County Sheriff's Department Homicide Bureau told the LA Times in 1995. "It's remote and there's not a lot of people around, so it supplies the seclusion these people are looking for."
You can share this story on social media: