Voters oust 'harbingers of education reform' in CO for curriculum & teacher pay changes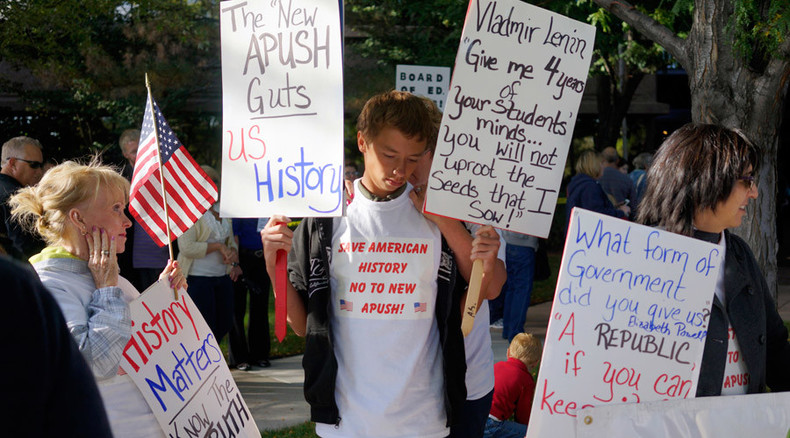 Three school board members were recalled in Jefferson County, Colorado for trying to implement controversial reforms. Changes in teacher pay and curriculum drove voters to the polls in an election that saw both sides spending hundreds of thousands of dollars.
"I think we are a harbinger of education reform, what can persist and succeed and what cannot," Ken Witt told the Associated Press less than a week before he lost his spot on the Jefferson County Board of Education, on which he served as its president.
What did not persist on Tuesday were the three board members up for recall. Elected in 2013, Witt, Julie Williams, and John Newkirk had sought to improve things for their county, which included Colorado's second-largest school district. However, a strong majority of voters didn't see their actions as improvements at all.
Over 60 percent of voters recalled the three Tea Party-style candidates, who had called for review and revision of the Advanced Placement US History curriculum.
"Theories should be distinguished from fact. Materials should promote citizenship, patriotism, essentials and benefits of the free enterprise system, respect for authority and respect for individual rights. Materials should not encourage or condone civil disorder, social strife or disregard of the law," the three reformers' framework for altering the course said.
"Instructional materials should present positive aspects of the United States and its heritage. Content pertaining to political and social movements in history should present balanced and factual treatment of the positions."
Teachers felt that their approach threatened lessons on the history of native peoples before American colonization. However, the recalled board members think their ousting had more to do with teachers unions being upset with their plans to alter policies on teacher pay. The new plan called for raises based on performance, rather than seniority.
These proposed changes prompted the superintendent to leave within days of their election, saying she felt disrespected. The board's replacement superintendent got a salary boost, which further outraged the reformers' detractors. The base pay had been $205,000, but grew to $220,000, plus up to $40,000 in bonuses for the new appointee.
Other board members also had problems with the three conservatives, who were rumored to meet secretly before joining the majority of members at meetings.
Colorado Ethics Watch, a transparency organization, reported that $186,399 was spent to oppose the recall and keep Witt, Newkirk and Williams. Recall supporters outspent them with $277,076 in an atypical campaign for non-partisan positions that pay nothing. Some partisan state-wide races end up raising less.
Voters elected Brad Rupert who replaced Williams, Susan Harmon who replaced Newkirk, and Ron Mitchell who replaced Witt.