Food workers protest conditions after being told to work through chemical spill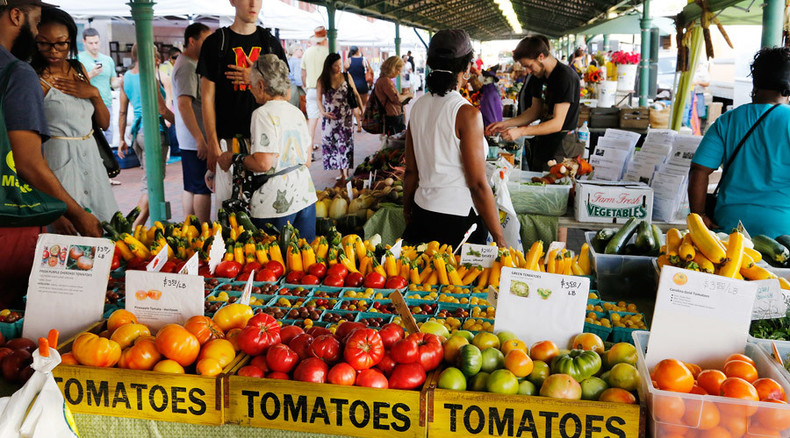 Immigrants working for one of the largest producers of fresh cut vegetables in California are rallying for safer conditions at work. This comes less than a month after they say their employer failed to properly evacuate workers during a chemical spill.
The mostly-immigrant workers at Taylor Farms Pacific in Tracy, California protested what they see as health hazards at work by holding up signs reading "DANGER: Taylor Farms" and "Taylor Farms: Respect Workers' Safety," ThinkProgress reported. They are demanding worker safety measures such as company-paid medical attention and chemical detection systems.
The demonstration follows an October 15 incident where workers were told to work through a chemical spill, despite complaining to managers about feeling sick and smelling chlorine. The plant was only evacuated after two dozen workers, including two dozen pregnant women, were sent to the hospital with symptoms including vomiting, nosebleeds and fainting.
The Tracy Fire Department determined that the spill had involved two chemicals, ascetic acid and chlorine, which create chlorine gas dangerous to mucus membranes in the nose and lungs when combined.
A similar incident involving chemicals had occurred at the facility in 2012. Twenty workers were taken to the hospital for breathing problems and eye irritation after exposure to industrial cleaning chemicals. According to a report by the California Department of Industrial Relations, the plant didn't have proper illness or injury protections in place – measures the workers are still demanding.
"People are afraid because they are immigrants and think they don't have any rights," said Camacho to Food Integrity Campaign, who worked at Taylor Farms for four years, adding "there is still discrimination and harassment at the plant." Camacho said that he experienced this firsthand when he was fired after helping to unionize the 900 employees.
"People work 17-hour days without a break, seven days in a row without overtime," he added.
A majority of American agricultural workers are foreign-born, and many of them are illegal immigrants. Many of them are intimidated by their legal status, and therefore don't report hazardous conditions in the workplace.