Ben Carson admits he lied about offer of 'full scholarship' at West Point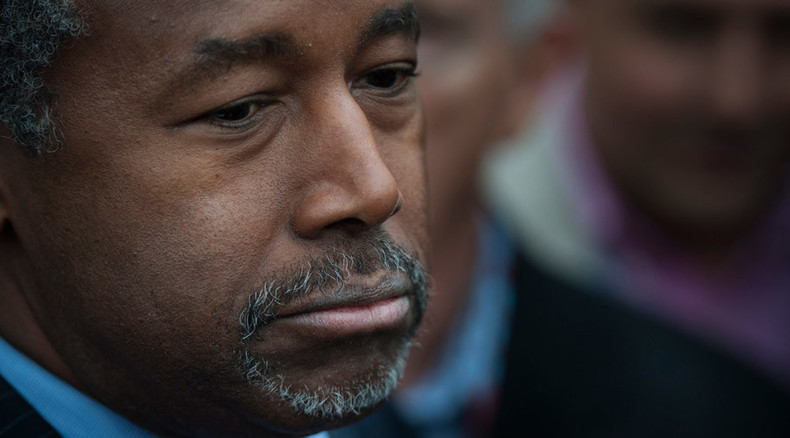 The campaign of Ben Carson, one of the top GOP presidential candidates, has admitted that he lied about being offered a "full scholarship" at West Point by four-star general William Westmoreland, as he had claimed in one of his memoirs.
In the book Gifted Hands published in 1996, Carson recalls a dinner with Westmoreland in 1969, intimating that the General had been impressed by his achievements in an ROTC program at Detroit's Southwestern High School.
Carson wrote that he was introduced to Westmoreland by his high school ROTC director after marching in a Memorial Day parade.

"I had dinner with him and the Congressional Medal winners. Later I was offered a full scholarship to West Point," the GOP presidential candidate wrote.
However, this whole story now appears to have been fabricated.
There is one fact on the surface that immediately throws Carson's story into doubt: West Point, along with the Navy, Air Force, Coast Guard and Merchant Marine, provides free education for all accepted students.
On Friday, Carson's campaign manager admitted that it had been made up.
"Dr. Carson was the top ROTC student in the City of Detroit," campaign manager Barry Bennett told POLITICO. "In that role he was invited to meet General Westmoreland. He believes it was at a banquet. He can't remember with specificity their brief conversation but it centered around Dr. Carson's performance as ROTC City Executive Officer."
According an email Bennett sent to POLITICO, Carson was "introduced to folks from West Point by his ROTC Supervisors."
"They told him they could help him get an appointment based on his grades and performance in ROTC. He considered it, but in the end did not seek admission," Carson's aide said.
West Point confirmed to the news outlet that the academy had no record of Carson applying.
"In 1969, those who would have completed the entire process would have received their acceptance letters from the Army Adjutant General," Theresa Brinkerhoff, a spokeswoman for the academy, said. "If he chose to pursue (the application process) then we would have records indicating such."
There is also another inconsistency between Carson's biography and events documented by other sources.
On the day that Carson claimed to have met Westmoreland – Memorial Day of 1969, which fell on May 26 that year – the General was not there. In fact, according to his schedule provided to POLITICO by the US Army, Westmoreland was in Washington DC playing tennis at 6:45 pm, rather than meeting Carson in Detroit.
The two may have met briefly at another event, however.
Westmoreland was the featured guest at a 1,500-person banquet to honor Medal of Honor winner Dwight Johnson in February of 1969, which Carson might have attended as a leader of the city's ROTC program at the time.
In his other book, You Have a Brain published in 2015, Carson downplayed his acquaintance with William Westmoreland, saying that his position had made it possible for him to meet the General.
"That position allowed me the chance to meet four-star general William Westmoreland, who had commanded all American forces in Vietnam before being promoted to Army Chief of Staff at the Pentagon in Washington, DC," he wrote.
While circumstances in that book were presented differently, Carson continued to insist that he "was offered a full scholarship to West Point."
"I also represented the Junior ROTC at a dinner for Congressional Medal of Honor winners, marched at the front of Detroit's Memorial Day parade as head of an ROTC contingent, and was offered a full scholarship to West Point."