US declines to stop Keystone XL review, Obama expected to reject pipeline
The US will not pause its review of the controversial Keystone XL pipeline, despite a request from the company behind the project. The fate of the project remains in the hands of President Barack Obama, who is expected to reject it.
"We've told TransCanada that the review process will continue," State Department spokesman John Kirby said on Wednesday, as quoted by The Hill.
"There's no legal requirement to do that and a lot of interagency work has gone into this to date, to include interagency review and coordination, as well as significant review and coordination here," he added. "The secretary believes that it's most appropriate to keep that process in place."
The State Department also formally notified TransCanada of its decision on Wednesday.
Read more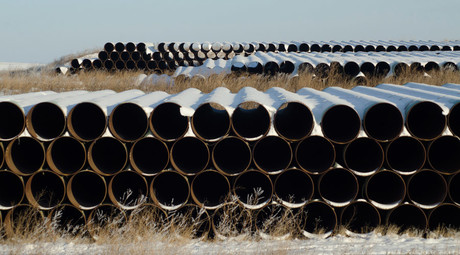 Earlier this week, TransCanada requested that the State Department halt its seven-year review of the pipeline project, saying it would be "appropriate at this time" to do so. The company said that the pause should go into effect while it continues to work with the Nebraska Public Service Commission on determining its preferred route for the pipeline, which would stretch through the state.
However, critics of TransCanada have suggested the move was political, with the company aiming to delay the process until President Obama leaves office and is replaced with a successor who may be more likely to approve the pipeline. Republicans have consistently argued in favor of Keystone, while Democrats have opposed it.
TransCanada President and CEO Russell Girling denied the allegation on Tuesday.
"We've tried to stay out of the politics of this situation and focus on the things that we're capable of doing and can control and that's the regulatory process," he said, according to The Hill.
If approved, the Keystone XL pipeline would deliver up to 830,000 barrels of oil a day from the tar sands of Alberta, Canada down to Nebraska. From there it would connect with existing pipelines to carry more than 800,000 barrels of crude oil a day to refineries along the Texas Gulf Coast. It would stretch for a distance of 1,179 miles.
In the past, President Obama has said he would only greenlight the project if it was not deemed to be a significant contributor to greenhouse gas emissions.
Given that the president is widely expected to reject the project, Keystone supporters are arguing that political maneuvering is also to blame for the State Department's seven-year review, as well as for its decision to not pause the process at this point.
Senator John Hoeven (R-North Dakota) told Reuters that he thinks Obama will ultimately defeat the pipeline before climate change talks take place this December in Paris, where the international community will meet to try and negotiate a comprehensive, global pact regarding global warming.
"The administration basically holds this project up for seven years as a way to defeat through delay," Hoeven said. "Now the company asks for a year delay to complete the work in Nebraska, and the Obama administration says no. That clearly shows that they intend to turn down the project."