NYPD arrests 50 at protest over wages & raises at CUNY headquarters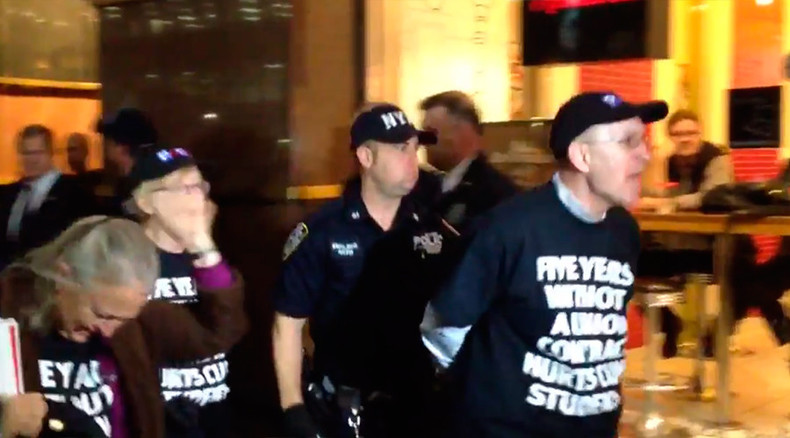 New York police arrested more than 50 people in front of the City University of New York's Manhattan headquarters during a rally for faculty. CUNY profs claim they have not had a contract for five years or received a raise in six.
According to WABC News, hundreds of people were present at the rally, including professors and Barbara Bowen, the president of the Professional Staff Congress (PSC), the union representing CUNY faculty. Bowen was blocking the entrance to CUNY with her allies and was also arrested, according to the union.
More than 50 people were arrested overall, PSC stated online.
The event began as part of PSC's effort to win new contracts and raises for CUNY faculty. Teachers and other workers say they have not had a new contract for five years and have not received raises in six. The group is seeking to put pressure on CUNY Chancellor James Milliken and has also targeted New York Governor Andrew Cuomo in an attempt to secure more funding for the school. More funding would be helpful in ensuring pay raises for staff.
Demonstrators chanted slogans such as "What do we want? Contracts! When do we want it? Now!" at the Wednesday protest.
The NYPD got involved when protesters sat down in front of CUNY's entrance and blocked the area. Officers warned demonstrators that if they did not leave, they would be arrested. According to WABC, no one left the entrance and all were detained.
Meanwhile, a bargaining session was reportedly underway inside CUNY.
The university is prepared to offer a six-year contract covering the time period from 2010-2016, and a six percent wage increase, according to a CUNY newswire issued Wednesday.
In October, PSC also organized a protest outside of Chancellor Milliken's apartment, chanting slogans like "No contract, no peace."
"Milliken must wake up to the growing crisis at CUNY," said Bowen at the time, according to the college newspaper The Banner. "CUNY cannot remain a vital force for educational and racial justice in New York City if it cannot recruit and retain the faculty and staff our students need. The failure to support our contract is ultimately a failure to support CUNY students. That's why we will not give up."
You can share this story on social media: