Double standards, demonization of Russia made Middle East worse – US lawmaker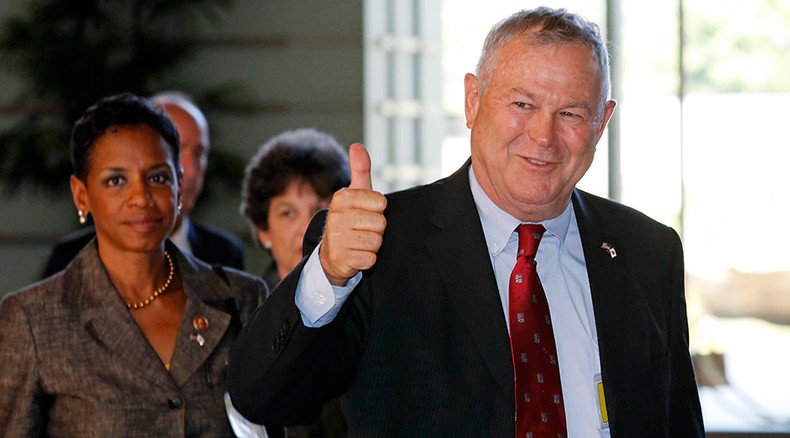 US double standards towards Russia and refusal to work with President Putin in the Middle East and elsewhere have resulted in an Islamist takeover in Libya and bloodshed in Syria, Congressman Dana Rohrabacher (R-California) has told senior US diplomats.
"The double standard that we have been judging Russia with, and basing our policy on that double standard, has caused us great harm," Rohrabacher said at a hearing of the House Committee on Foreign Affairs on Wednesday morning. "Had we been working with the Russians all along in good faith, I believe the situation in the Middle East would have been totally different, and better, more stable."
The California lawmaker took exception to Russia-bashing by his colleagues, as well as Assistant Secretary of State for European and Eurasian Affairs Victoria Nuland and her colleague Anne Patterson, Assistant Secretary of State for Near Eastern Affairs. Nuland and Patterson were at the House committee hearing to brief lawmakers on US policies in the wake of Russia's intervention in Syria against Islamic State militants.
Washington has accused Russia of bombing the US-backed "moderate rebels" rather than Islamic State targets. Moscow maintains the Russian air force is targeting all terrorists inside the country, including IS and the al-Qaeda-affiliated Jabhat al-Nusra. Patterson admitted that al-Nusra had "absorbed a number of what we would previously call the moderate opposition" during the hearing.
"The double standard that we've been judging Russia… is just overwhelming," Rohrabacher said. Noting that he had taken great pride in fighting against the Soviet Union during the Cold War, he said that Russians had expected to be treated as friends after the conflict ended, but were only met with more hostility.
He also pointed out that the US had turned down a Russian proposal to broker a compromise end to the civil war in Syria years ago because of this hostility. Now that Syria has "totally gone to hell, we still can't get ourselves to try to look at Putin as a possible partner in cooperation to make things better," Rohrabacher thundered.
"I believe it is our hostility to Russia that prevented us from creating a policy that would create a more stable Middle East," he said.
Assistant Secretary Patterson took exception with the congressman's contention that other Gulf Arab states were as willing to violently suppress rebellions as the government in Damascus.
"Saudi Arabia is a country I know very well and they would not do that," she said.
"That's very naïve," replied Rohrabacher.
Pointing out that the US overthrew the Gaddafi government in Libya, only to see half the country fall to radical Muslims who want to kill Americans, the lawmaker asked Assistant Secretary Patterson how the State Department intends to avoid the same outcome in Syria.
"There is a broad consensus in the international community that the institutions in Syria would remain intact," Patterson replied. "The goal is to remove Assad and his closest advisers, and have this political process that would lead to a new government, not destroy the institutional structure."
When Rohrabacher asked why exactly that might be a US goal to begin with, Patterson replied that Washington was protecting a "national security interest" because the situation in Syria affected the security of US allies – Israel, the Gulf Arab states, Lebanon, Jordan and Turkey.
"By dealing with Putin instead of trying to demonize him, perhaps we could have had have more stability in Syria and our friends would be actually better off, than the current policy of 'whatever we do, don't work with Russia, and get rid of Assad'," Rohrabacher retorted.
On Tuesday, Russian and US warplanes conducted a joint safety exercise in the skies over Syria. The Pentagon called it a "communications test" and stressed that there was no formal US-Russian military cooperation.
Since the beginning of Russia's air campaign initiated at the requested of the Syrian government, Russian aircraft have carried out more than 1,600 sorties, killing several hundred terrorists and destroying more than 2,000 targets. Having suffered substantial losses, IS militants have been withdrawing from the line of contact with the Syrian army.
LISTEN MORE:
You can share this story on social media: