NYPD under fire over cop who 'converted' to Islam to spy on college students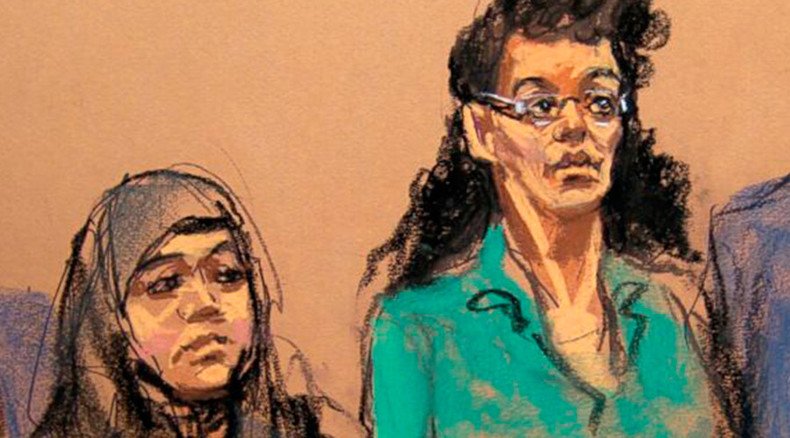 Civil rights activists are speaking out about revelations that an undercover detective with the New York Police Department "converted" to Islam in order to spy on Muslim students at Brooklyn College over a four-year period.
That work led to the recent arrest of two Queens women allegedly involved in a terrorist bomb plot.
The NYPD has already been under fire for running a demographics unit which conducted blanket surveillance of the Muslim community after 9/11 in New York and New Jersey, despite such activity being in violation of the Constitution.
"The problem has been that the courts who are tasked with determining what is and what is not unconstitutional, illegal – and what is and is not entrapment – have been complicit, and have expanded the prosecutorial and police powers to engage in predatory practices against Muslim communities in particular," human rights attorney Lamis Deek told RT.
"While under law and logic this would be considered entrapment. If you look at the complaint, it is clear this case is entrapment. Unfortunately we are not going to find a court or a judge to do that," Deek added.
The revelations about the NYPD's undercover operation came from a Justice Department release announcing the arrest of two Queens women, Noelle Velentzas and Asia Siddiqui, on conspiracy to use a weapon of mass destruction in April 2015. It revealed that a detective from the NYPD's Intelligence Bureau was heavily involved in bringing the girls to justice and foiling the bomb plot, according to the Gothamist.
"The work of the NYPD's Intelligence Bureau, its undercover Detective, and its seamless collaboration with the Special Agents and the Detectives of the Joint Terrorism Task Force…should serve as a model for early detection and prevention of terrorist plotting," said NYPD Commissioner William Bratton in the release.
Deek said that in a case like Velentzas and Siddiqui's, where the plot is manufactured and orchestrated by a confidential informant – in this case, the officer went by "Mel" – and those working with the informant, law enforcement will make sure that the defendants' lives are so "infiltrated" and controlled that they behave in a way that ensures they can have no defense.
"The law says that if defendants speak about political issues that relate to the case then [they] are predisposed to engaging in these acts, and that predisposition overcomes [their] defense of entrapment," said Deek.
The Justice Department alleged the girls had researched how to construct bombs to use as a weapon of mass destruction on American soil. They obtained bomb-making instructions and materials, and used instructions provided by Al-Qaeda's online magazine.
Deeks said that what is telling about the complaint is that the NYPD informant, Mel, had been working around young people at the college for four years. Yet there was no issue or suspicious activity until she met the two Queens women who were ultimately arrested in July 2014.
"The complaint only lists actions that these two girls took from August onwards, from the time they met this undercover informant and she built a relationship with them," Deek said. "What we see instead is the Joint Terrorism Task Force informant was in the very least inciting them to engage in these actions that would later lead to their arrest."
Mother Jones reported that the FBI's Joint Terrorism Task Force and its use of informants takes a majority share of the Bureau's budget, requiring $3.3 billion to support a national network of 15,000 informants who are paid $100,000 per case, or who work off criminal or immigration violations.
"The problem with the cases we're talking about is that defendants would not have done anything if not kicked in the ass by government agents," says Martin Stolar, a lawyer who represented a man caught in a 2004 sting involving New York's Herald Square subway station, told Mother Jones. "They're creating crimes to solve crimes so they can claim a victory in the war on terror."
On this point, Deek' concurs, but she added that while this operation is not effective, it is creating fear.
"What they have done effectively is terrorize the Arab-Muslim-Pakistani communities of New York and the US. People are afraid to talk to each other. They don't know who is who, and what is what. They are being disciplined and their First Amendment rights are being actively curtailed, so this is a very violative program that mimics tactics … of occupying governments," Deek said.
You can share this story on social media: