Top NY lawmaker accused of 'betrayal,' faces charges of corruption and extortion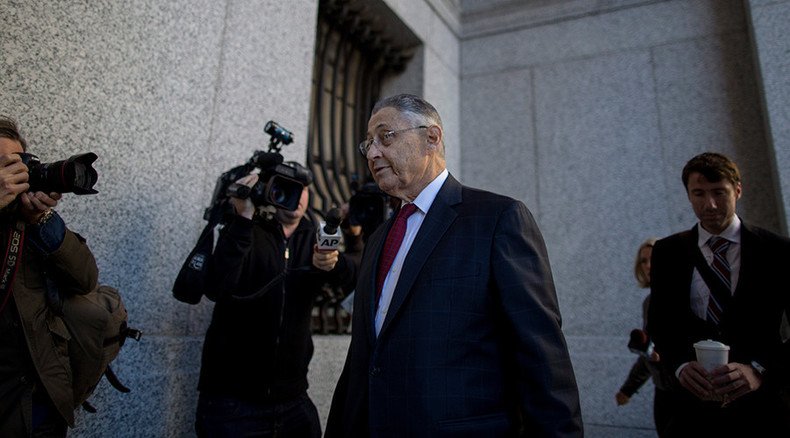 Attorneys presented opposing portrayals of top New York lawmaker Sheldon Silver in opening statements at his criminal corruption trial. Silver was described as a manipulator of the public trust as well as a dedicated public servant.
"Power. Greed. Corruption," Assistant US Attorney Carrie Cohen said repeatedly in her opening statement in a US District Courthouse on Tuesday, according to the New York Post. "This is about a powerful politician who betrayed those he was supposed to serve in order to line his pockets."
"This was not politics as usual," Cohen added to the federal grand jury. "This was bribery and kickbacks – illegal criminal conduct."
Silver, 71, one of the state's most influential Democrats, faces seven charges in total, including conspiracy, money laundering, and extortion. Six of them each carry penalties of up to 20 years in prison. He has pleaded not guilty to all charges.
Two schemes led to the charges against the lawmaker. The first involved Silver's role at Weitz & Luxenberg, one of the leading law firms in the state handling asbestos cases, where he was of counsel. The government alleges that Silver helped funnel patients from Dr. Robert Taub, a leading cancer researcher and the director of Columbia University's Mesothelioma Center, to Weitz & Luxenberg for legal representation.
Silver is alleged to have received a portion of the settlements from those cases totaling $3 million in exchange for referring the patients. Silver is also alleged to have steered $500,000 of taxpayer money in the form of grants from the state to the research center.
Separately, Silver has been accused of using his position as Speaker of the New York State Assembly to force two prominent real estate developers, Glenwood Management and the Witkoff Group, to hire attorney Jay Goldberg of Goldberg & Iryami to represent them in complex legal matters. In return, prosecutors said Silver received illegal kickbacks from Goldberg worth $700,000, for which he also lent his support as New York assembly speaker to key real estate legislation.
"Year after year, Sheldon Silver was on the take," Cohen said.
As speaker, Silver was one of the so-called "three men in a room," along with the Senate majority leader and the governor, who essentially control all legislative business in Albany.
Silver's defense lawyer, Steven Molo, said prosecutors had "twisted" the normal negotiations and compromises of government into a crime.
"If the prosecutors don't like the system, they can do what democracies do: They can go to the people and seek change," he said, according to Politico. "Make no mistake, Mr. Silver did not sell his office."
Molo said Silver negotiated bills, did favors for friends, and collected legitimate legal fees, all while pursuing laudable goals: promoting affordable housing, helping cancer patients, and supporting medical research.
Silver still represents his constituents on the Lower East Side, although he resigned from his position as speaker shortly after the charges were filed.
District Court Judge Valerie Caproni said the trial is expected to last between four to six weeks.
You can share this story on social media: