Watchdog fumes over $43m Afghan gas station, Pentagon keeps mum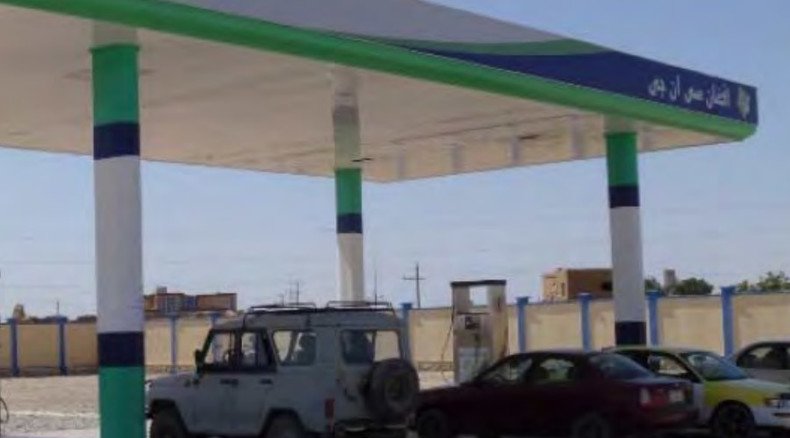 The Department of Defense is dodging questions about an $800 million program aimed at boosting the economy of Afghanistan, including $43 million spent on a natural gas station that few if any Afghans can utilize, says a US government inspector.
John Sopko, the Special Inspector General for Afghanistan Reconstruction (SIGAR), said that the US military is illegally withholding documents pertaining to the Task Force for Business Stability Operations (TFSBO), a five-year program intended to kick-start the Afghan economy. In a letter to US Secretary of Defense Ash Carter, Sopko also claimed the Department of Defense (DOD) has refused to offer personnel that could answer questions about the task force.
"Frankly, I find it both shocking and incredible that DOD asserts that it no longer has any knowledge about TFBSO, an $800 million program that reported directly to the Office of the Secretary of Defense and only shut down a little over six months ago," Sopko wrote to Carter in an October 22 letter that was released publicly on Monday.
One prime example of unaccounted-for spending is the high-dollar compressed natural gas station, a project, SIGAR found, that would cost "approximately $306,000" in neighboring Pakistan, 140 times less than the final amount spent.
The purpose of the project, in Sopko's words, "was to demonstrate the commercial viability of CNG (compressed natural gas) for automobiles in Afghanistan as part of a broader effort to take advantage of Afghanistan's domestic natural gas reserves and reduce the country's reliance on energy imports."
Sopko wrote that the project – an "expenditure [that] appears gratuitous and extreme" – was executed without proper planning, considering the local infrastructure for natural gas production and the lack of customers that could even use the station.
READ MORE: Pentagon wasted $15mn on Afghan warehouse it never used
"[T]here is no indication that TFBSO considered the feasibility of achieving the station's broader objectives or considered any of the potentially considerable obstacles to the project's success before beginning construction," SIGAR wrote to Carter.
Sopko told FoxNews.com that he has never seen a government agency "clam up and claim they don't know anything about a program."
"Who's in charge? Why won't they talk?" he said. "We have received more allegations about this program than we have received about any other program in Afghanistan."
The Pentagon has told SIGAR that the $42,718,739 spent between 2011 and 2014 to "fund the construction and to supervise the initial operation of the CNG station" included about "$12.3 million in direct costs and $30 million in overhead costs." The Pentagon's contract for the station was with Central Asian Engineering, which was given $3 million for construction, according to Fox News.
READ MORE: Pentagon slammed for building $36mn 'white elephant' facility in Afghanistan
The $43 million station has received attention on Capitol Hill, as lawmakers decried the apparent waste.
"This is shocking in multiple ways," said Sen. Chuck Grassley in a statement. "The cost of an unnecessary gas station in Afghanistan skyrocketed to a ridiculous height. Now, the Department of Defense is blocking access to documents and personnel that would shed light on how the money was spent."
He added, "The lack of accountability and transparency is disgraceful."

How and why that funding was approved are topics the Pentagon will not make clear to SIGAR, Sopko said.
In June, the Pentagon told Sopko that it "no longer possess[es] the personnel expertise to address these questions," repeating the assertion in October, according to ProPublica. These claims were made despite that fact that the task force's former acting director, Joseph Catalino, is the Pentagon's Senior Adviser for Special Operations and Combating Terrorism. Catalino has not spoken to Sopko's office since March, before the task force was shuttered.
In response to inquiry made by ProPublica the Pentagon changed its tune, saying that SIGAR will get a chance to question Catalino.
Sopko has also complained that the Pentagon has not allowed his office to view relevant task force documents, a violation of the law, he said.
The Pentagon has said that SIGAR can view the documents, but only in a DOD-provided room with department computers, and only after the DOD reviews and redacts any requested documents.
"We have established a reading room at the task force document storage facility specifically for SIGAR use," said Army Lt. Col. Joe Sowers, a Department of Defense spokesman, told ProPublica.
The Pentagon told Sopko that "appropriate safeguards are necessary due to SIGAR's actions that revealed Personally Identifiable Information [PII] in an unrelated incident." The department said SIGAR did not properly redact names of military personnel when it offered ProPublica a database that details how the US military spent cash on local Afghanistan projects.
"SIGAR believes this vague accusation is a red herring intended to divert attention from DOD's continued refusal to answer any questions related to TFBSO activities," Sopko wrote in a report. "For example, in response to SIGAR audits and investigations of other matters, DOD has continued to provide unrestricted information and unfettered access requested by SIGAR auditors and investigators."
In the wake of the controversy, Senator Grassley has called for increased transparency, questioning how the Pentagon can claim it cannot give details on how the task force spent its money.
"Under the law, government employees are not authorized to spend tax dollars without proper documentation like contracts, invoices, receiving reports and payment vouchers," the lawmaker said. "The Defense Department needs to come clean, drop the obfuscation, and hold people responsible for a colossal waste of tax dollars."
You can share this story on social media: