6 dead, 2 missing as floods, tornadoes rage in Texas (PHOTOS, VIDEO)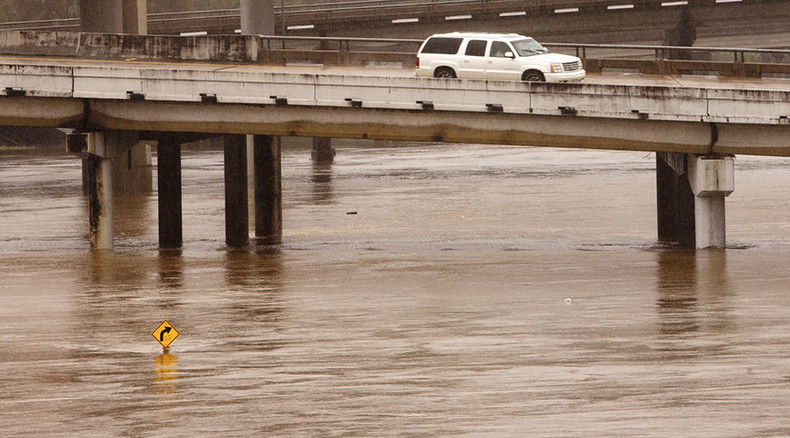 Heavy rains, flash floods and tornadoes have ripped through Texas, leaving at least six people dead. Authorities have advised parents to keep their children indoors and avoid traditional Halloween activities in the worst-hit areas.
Areas surrounding Austin and San Antonio were hit with heavy rains and flooding late Friday night. At least four people have died after being swept away by flood waters. At least one person is missing.
Austin Bergstrom International Airport suspended all flights on Friday after a six inches of water flooded the air traffic control tower. Some 40 flights were canceled on Saturday.
Harris County emergency management officials urged families to avoid flooded areas if they did decide to go trick or treating after storms dumped up to eight inches of rain.
Houston police confirmed two deaths after rain descended on the area Friday night. By Saturday afternoon the Houston Fire Department claimed to have responded to more than 130 water rescues calls.
Damage to homes was reported as frightening scenes from the storms flooded social media. As the storms moved east on Saturday, three tornadoes were recorded in the Houston area.
The first tornado hit Brazoria County near Alvin at around 5:00am local time, leaving at least two people injured and damaging some 25 mobile homes just south of Houston.
Thirty minutes later, another tornado, Friendswood, damaging some 30 residences. Ninety minutes later up to 30 homes suffered damaged from a tornado in Harris County.
Authorities say floodwaters are slowly receding, but that creeks, bayous and ditches may be full into Sunday. The weather forecast says more harsh weather will continue throughout the weekend, moving on south to Oklahoma and Louisiana.
You can share this story on social media: